Invitation Letter to Invite Someone for Speech at School
Certain schools and colleges hold different types of events and workshops for their student body. And then in order to make them more educational and beneficial for their students, they invite renowned speakers. Formal letters are written as invitations to the guest speakers for them to deliver a speech at school. It contains the details of the date and time of the event. It can also address some retired professors of the University or any other literary personality. The invitation letter body is written below.
1-
I [name] want to invite you on behalf of [school name] to our Annual Sports Day event on [date]. This is a much-awaited event in our school. This event comes after their midterms and the students are really looking forward to having a great fun-filled experience after being cooped up in their homes for so long.
Because of the pandemic, schools have remained closed during the past two years, and we were not able to arrange any extra-curricular activities for them. Having a legend like you hand out the prizes to our young sportsmen and women would be an honor they would always remember.
As you are aware sports are an important part of the student's mental and physical development. They give the children confidence and teach the value of hard work. When they work hard and achieve their goal they learn the life-long lesson that they can achieve anything by working for it with dedication. They also learn important life lessons like how to face failure, how to deal with success, how to work in a team, and most importantly self-discipline.
You are one of the most successful and respected sportsmen of our time and the students really look up to you. We are sure that they would learn a lot by listening to you. Your journey and the lessons you learned along the way would inspire these young people to dream big. They would learn that any hardship can be overcome by consistent effort and perseverance.
Looking forward to a positive response.
Size: 12 KB Word [.doc] File
2-
Dr. Ms. [name],
I [name] am the principal of [school name] and I would like to invite you to our school where we are celebrating Literature Week. You are one of the most celebrated authors and your presence in our festivities would boost the spirit and morale of the students.
During this week the school encourages children to let their imaginations run wild and create all kinds of literary pieces including plays, different kinds of poems, stories, etc., and children are asked to recite literary works of their favorite authors and poets.
Not only are children encouraged to recite the works of previous personalities but also to write their own poems and passages and then recite them. There are different competitions each year and the winners' entries are sent to be published in famous magazines and newspapers. This gives the children confidence and an interest in literature and is an opportunity for them to show their creativity.
It teaches the children that our literature is a part of our heritage and culture, and it reflects our society's values, ethics, and traditions. The students learn to enjoy and cherish poetry and they realize the joys of reading.
If you could give a short speech to the students it would inspire and motivate them greatly. There are many budding writers in our school and we see a bright future for them. This is the age when their minds are still young, full of ideas. Your words as a successful and accomplished writer would encourage them to explore their potential as writers and pursue a career in writing. The students will always remember your advice and they will take it as an honor.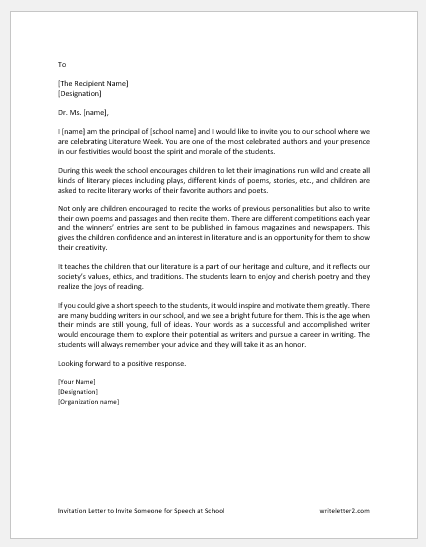 Size: 12 KB Word [.doc] File
3-
Dear [recipient's name],
I hope this letter finds you in good health. We are proud to announce another successful event of annual prize distribution to be held at our school in the last week of the present month. Since you are the most honorable and respected retired professor of [Institute Name], we would like to have your presence as our chief guest at the ceremony. It will be a surprise for our graduating batch to have you on the big day to appreciate them and wish them the best of luck for their future.
We request you to give us your speaking time of 5 minutes and also we will have a plaque as a piece of acknowledgment for you as well. We really hope that you will take some time out of your busy schedule for an evening with us. Thank you very much.