Complaint Letter for Computer Service
The advancement in technology has changed the lifestyle. And, it has provided much ease. Among this, computer systems stand the first. In schools, colleges, universities, and homes they have become a necessity. It has a lot of uses like a variety of software as well as the internet. It needs frequent upgrade and repair. Computer services like Operating System upgrade or installation, software or hardware upgrade or installation, memory upgrade, anti-virus installation or removal, internet settings are needed anytime anywhere.
A lot of companies provide services and repair. It becomes much frustrating when issues arise at the time of severe need. Such severe needs are that when exams in schools and colleges have started, when office presentations are due and when big conferences or seminar are going on. In all such cases, one needs immediate repair. The companies need to give prompt response to the customers. When poor or nil response is given, people usually make complaints against the companies.
C

omplaint Letter for Computer Service
Xavier Alexander.
Block 27B, Fifth Canal Avenue, New York.
30th April 2017
Mr. Jacob Anthony.
Manager
Newton Computer Services and Repair Company.
12 St. Silver Bridge Avenue, New York.
Dear [Recipients Name],
I am writing to make a complaint about the computer service. Last week I had ordered a computer system from your company. I am very much disappointed with the response. Firstly, I received it 2 days after the delivery date. When I turned it on, I found out many fallacies. The CPU was working but the screen was blank. The keyboard was producing current when touched. The speakers were also not working. This was my first online purchase from your company on basis of some recommendations from my office colleagues. But my experience is very bad as compared to my colleague's views. I need a rapid resolution of my problem. I am sending the copy of purchase receipt along with the letter. It has all the details. I am waiting for the replace. I request you to send one of your technician along with the replacement of the system to provide quick help if any problems arise again.
Waiting for quick assistance.
Sincerely,
Xavier Alexander.
Download Details: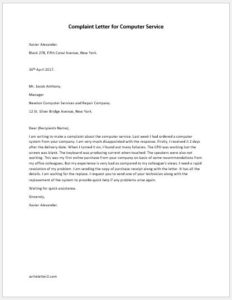 Complaint Letter for Computer Service
Size: 31 KB Word .doc File 2003 & later
Download
Mobile Version: Polaris Office & Google Docs
Size: 25 KB File
Download
[personal use only: Not for Resale & Distribution]