Complaint Letter about Insurance Policy Cancelled by Company
The step of cancellation of an insurance policy is not taken by the policyholders only. The company or otherwise called the insurer may cancel the policy on its own without any request made by the policyholder. There could be many reasons why the policy is canceled by the company i.e. In the case of violations of rules by the policyholder, in the case of any fraud on the part of the policyholder or because some circumstances go beyond the clauses of the policy i.e. age limit etc.
There are cases when the insurer is valid in canceling the policy but the cancellation could have been made by error. When it is an error or the policyholder considers the cancellation undue, he reserves the right to send his complaint to the company to resolve the matter.
Complaint Letter about Insurance Policy Cancelled by Company
Dear [Recipient's name]
I received your letter yesterday. I thought it was the installment that I have to make this month but to my utter disbelief, it was my insurance policy cancellation letter.
How could it even happen? My policy was a lifetime policy and I have to pay until …]. Moreover, I could not understand the reason for cancellation. The letter says I have violated the policies of the company while I cannot recall any violation on my part.
The policy no. [X] which I have violated is given at #6 but the policy details are not mentioned. Because I don't have the policy details document with me at the moment I can't read what the rule #6 is about. But as I read all the documents in detail before taking the policy I can say with certainty that I have not violated any rule of the company.
Regarding yesterday's letter, I want you to make a clear statement regarding why the cancellation has been made. I am suspecting it was in error. Kindly provide me with a detailed written statement about the cancellation within a week so that I may see my mistake and in the case, it was an error on your part you could compensate for it by resuming my policy. I shall be grateful to you for that. Thank you!
Sincerely,
Download Details: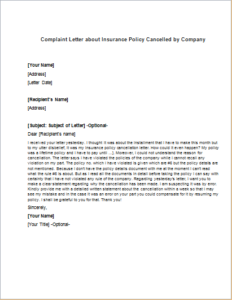 Complaint Letter about Insurance Policy Cancelled by Company
Size: 25 KB Word .doc File 2003 & later
Download
Size: 249 KB PDF File
Download
[personal use only: Not for Resale & Distribution]