Parental Letter of Authorization for Travel
Children sometimes during their academic career or while attending some kind of courses have to travel across city, country or outside the country as part of the course outline or as a co-curricular activity. For this travel, parental consent is required particularly when the child is a minor. These consents are sometimes taken by the relevant authorities on parental consent forms while other times the students are required to bring a parental authorization letter. In a parental authorization letter, the parents or the guardians of the child grant their consent for their child's travel and allow the relevant authorities to take their child with them.
Note that while parents grant their authorization for travel, it is the responsibility of the guides and relevant authorities to take care utmost of the children/students since they are in their custody.
This letter can be used as a letter of parental authorization for their children to travel.
Parental Letter of Authorization for Travel
Dear [Recipient's Name],
I am writing to you regarding my child's upcoming school trip. I was asked to submit my consent regarding the travel. This letter is to confirm that I authorize you to take my child to [enter place] for [enter purpose] and [enter days]. He has traveled along other students with you several times and I am sure you'll take the best care of all of them like always. Thank you!
Sincerely,
[Your Name]
[Senders Title] -Optional-
Download Details: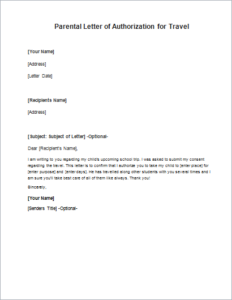 Parental Letter of Authorization for Travel
Size: 25 KB Word .doc File 2003 & later
Download
Size: 169 KB PDF File
Download
[personal use only: Not for Resale & Distribution]