Notice of Clean Washroom to Staff
Sample Letter -1
Subject: Notice of clean washroom to staff

Dear all, for the last couple of days, I was thinking about discussing the washroom cleanliness matter with you people. In my last visit to the company office, I needed to use the office washroom in order to urinate, and it was very hard time I spent over there. You all know that we are a large business entity and have a lot of customers visit our office on a daily basis. Now just imagine that how would they be thinking about us regarding washroom cleanliness matter?
Dear employees! Remember one thing that maintaining a good hygienic environment is one of the keys to a successful business. Higher levels of hygiene must be reflected from toilets and washrooms not only due to filth but the reason that these places act as a breeding place for a lot of harmful bacteria and other disease-causing agents.
Maintaining filth in washrooms is a clear-cut indication of the fact that you are making yourself and others prone to dangerous diseases.
Due to the outbreak of the corona pandemic and other diseases, government healthcare officials are visiting all public and private sector offices and checking hygienic conditions against the set criteria by the government. So, for instance, if they visit our office, what will they find?
Keeping in view all the circumstances, guidelines regarding washroom cleanliness are being laid down which are meant to be followed by all employees of the company henceforth.
Toilet papers must not be used in excessive amounts to avoid blockage of the drainage.
All sanitary products along with plastic papers must not be flushed.
Use the toilet cleaner and brush in case some mass is left in the flush bowl.
Once the seat is used, it must be wiped out properly.
All of you are hereby directed to follow the instructions given in this notice in order to save yourself and others from dangerous diseases.
Yours sincerely,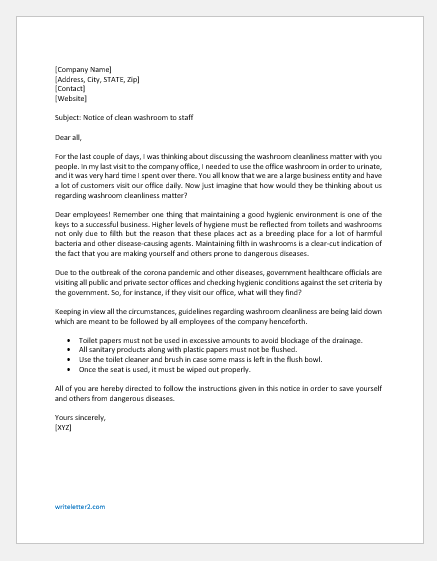 Size: 23 KB Word [.doc] File
Sample Letter -2
Subject: Cleaning washroom for use
Dear employees,
Please take this letter as a notice regarding the cleanliness of office washrooms. Yesterday, I had to use office washrooms meant for employees. I was worried to see the condition of cleanliness over there. The flush bowl was filled with a huge mass and was nonfunctional. The floor was wet and an unpleasant smell was spread in the washroom.
It was a very hard time for me to spend there in the washroom. I was surprised that how could you all use that washroom in such a filthy condition!
I had chanced to notice this kind of situation before as well but, I remained silent, thinking that the things will be get done by yourself without issuing you any notice. This time, the situation has become worsen even more than before. You know that a lot of people visit our office on a daily basis for various business purposes. I mean, what would they think about us on finding such a poor standard of washroom hygiene?
Therefore, you all are being directed through this notice to use the washroom responsibly. For this purpose, you must assure that seat is wiped properly, the flush is cleaned and functional and tap water is not wasting anymore. Your cooperation is required in order to maintain a proper hygienic environment otherwise, our washrooms will serve as the paradise for disease-causing agents such as viruses, bacteria, and other organisms responsible for spreading diseases.
I hope all the employees will comply with the instructions in this notice.
Yours sincerely,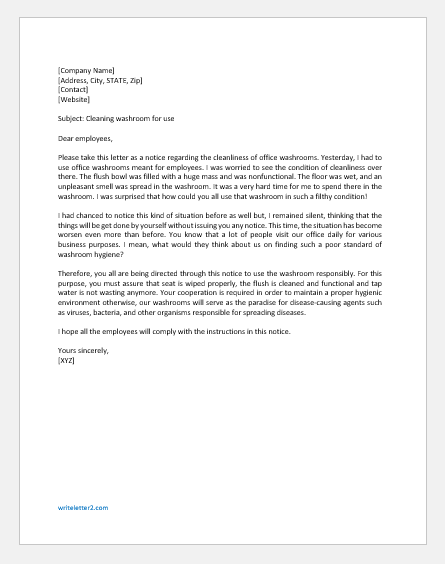 Size: 23 KB Word [.doc] File