Response Letter to a Job Rejection
Rejection could be of many types. A bid rejection, rejection for a job, a proposal or offer rejection and many others. Rejections and Acceptances are part of life and particularly part of business sphere too. Thinking on the factual grounds, when there are more than one options and one is bound to select only a few, it is certain that the rest will be excused. Some win and some lose. But the failures should never be taken personally. Rather, a person should remain motivated and accept the rejections as graciously as an acceptance. This unexpected behavior marks miraculous impressions. Not only that the rejected person is able to keep himself positive but a graciously accepted rejection can open more opportunities for him since he is then regarded as a person of mighty destination and mountainous courage which is what most businesses desperately search in their employees.
Response Letter to a Job Rejection
Dear [Recipient's name]
It is a little sad to see this opportunity go; however, I am not disappointed since I believe that God never closes a door without opening another. I would like to thank you very much for your precious time. It was a very thought provoking interview and even though I am not selected, I got the chance to learn a lot of things from your experience. I would also like to thank you for the guidelines and suggestion that you made on how can I deal with my shortcomings to become a better and competent applicant. You boosted my energy as well as my morals for future endeavors. I'm certainly indebted to you. Thank you very much.
Sincerely,
[Your Name]
[Your Title] -Optional-
Download Details: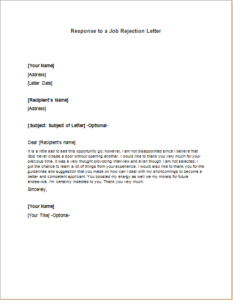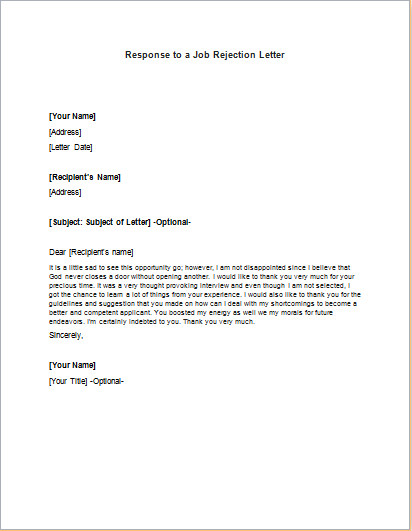 Response Letter to a Job Rejection

Size: 26 KB Word .doc File 2003 & later
Download
Size: 158 KB PDF File
Download
[personal use only: Not for Resale & Distribution]