Fuel Claim Letter to Manager
1-
I am Alex, working as a Sales Executive in your company. Through this letter, I want to forward you my formal request for claiming the expenses which were incurred in buying the fuel last month while performing my job-related tasks.
Since I am a sales executive and my job demand extensive traveling from me to introduce the company products to far off places of the town. In addition, I have to track the sales officers how efficiently they are carrying out the sales activities. I performed all these tasks very nicely while working on a company vehicle which has been provided to me for the accomplishment of official tasks.
Usually, I am provided the fuel expenses at the end of the month with pay. But for the last month, I have not been provided with the same, and fuel consumption was also high due to the induction of a new sales team. I had to travel extra mileages due to this reason and expenses in this lieu were born from my own pocket. I have attached to this letter all the receipts of fuel which I purchased from authorized fuel stations at various times.
Since I used the fuel for dealing with the company matters, therefore, I am hereby claiming an amount of [US dollars] which was incurred in purchasing the fuel during last month. Moreover, it is my humble request to you to reimburse this amount as soon as possible so that I would be able to run my routine matters efficiently. I shall be very thankful to you for this act of kindness.
Yours sincerely,
[XYZ]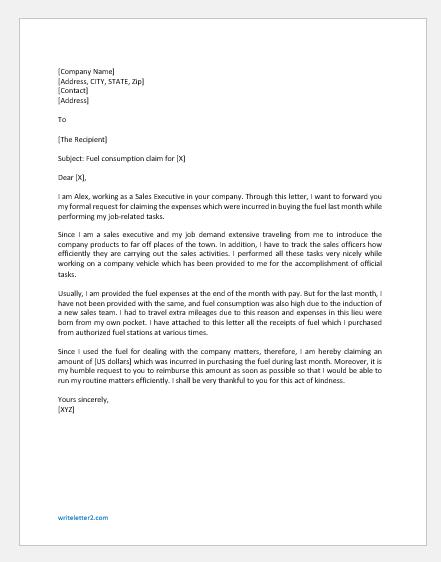 Size: 21 KB Word .doc File 2003 & later
Download
---
2-
Subject: Fuel claim for [X]
Dear Sir,
First of all, I would like to say thank you for promoting me to the rank of senior territory manager of this company. With this, I want to bring this thing to your notice that with the upgradation of my post, my duties have also been increased accompanied by extensive traveling. Through this letter, I want to claim that amount which was incurred in lieu of fuel purchase last month because I bore all the expenses from my own pocket and I was paid nothing in this regard.
As a sales manager, I was supposed to track the progress of the sale by following all the sales officers in the area. Fuel consumption at that time was nominal and was being managed very efficiently. With the upgradation of my post, my duties have also been changed.
As a senior territory manager, I kept an eye on the performance of sales officers and supervised the warehouses of the company which is located far away from the city. In doing so, fuel consumption was very high and I purchased all the fuel to accomplish my job-related tasks, thinking that I would be provided this amount with my salary at the end of this month. I want to inform you that I have not been paid and due to which my domestic budget has been disturbed.
Keeping in view this I have attached all the receipts of authorized fuel stations and now, I hereby claim an amount of [US dollars].
I hope you will entertain my request and the accounts department will credit the above-mentioned amount to my account as soon as possible. I am thanking you in anticipation.
Yours truly,
[XYZ]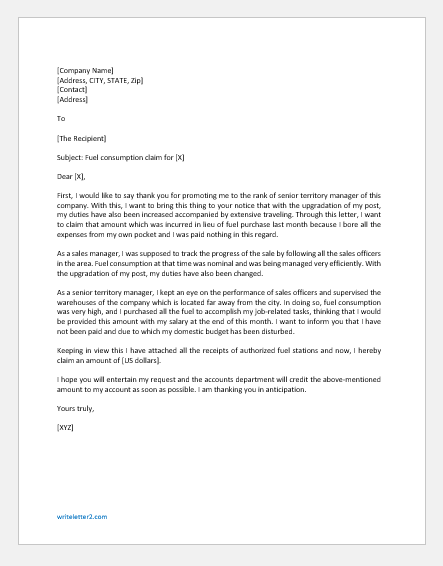 Size: 22 KB Word .doc File 2003 & later
Download