Apology Letter from Church
Church has been a place to worship and gather under one roof to practice and learn the religion. The church organizes different services for people of all ages to benefit from. These services can be a good way to encourage each other to follow the right path and grow as a stronger community.
The church has a staff including the pastors, priests and the reverends who are always putting in their personal efforts to make people turn to the church and connect back to their lord. Despite the encouragement to attend church, the people might not show up due to their own busy schedules or may be due to some offense from the church. In such a situation, writing a casual apology can help mend the terms.
State the benefits of attending the church and highlight the importance of these services for the community. Politely apologize if you do not know the matter and inquire the reasons for the absence. This polite inquiry can leave a lasting effect on the people and they will feel valued.
Apology Letter from Church
[Address]
[Name]
[Date]
Dear [Recipient Name],
A church is not just a place to pray rather it is a place where we share our happiness and grief as a family. The purpose of these services is to bring the community under one roof and practice our religion together. Gathering in church every week ignites a feeling of unity and love between every member.
It has been a long time since I saw you and your family in the church services. We have been conducting services on different days and times to suit the schedule of every person. We also felt the absence of your kids a lot. These services are very important for your kids as it helps them learn their religion in a very playful way.
I was wondering if everything is fine with you. I was sure you might be having a hard time at work that stopped you from showing up in the last few weeks. The people of the church are very loving and considerate about everyone attending the church. I hope the church and its people did not cause any offense to you and if that is the case, I can assure you that it was accidental.
I would love to meet you and discuss with you any reasons for not attending the church. Always remember the church is your spiritual home and we are always waiting for people to come back and share their feelings with us.
Sincerely,
[Sender]
Download Details: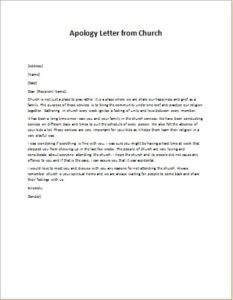 Apology Letter from Church
Size: 26 KB Word .doc File 2003 & later
Download
Size: 107 KB PDF File
Download
[personal use only: Not for Resale & Distribution]