Complaint Letter for Exercise Equipment
Now a day, knowledge is on single click far from us. We can search the solution of all kinds of problems through the internet. But we are moving in a wrong direction too with the growth of technology. These charming mobile applications have taken time from us that we were used to spending with our family, with our friends, on the playground, completing our homework and doing exercise for mental relaxation. However, the methods of exercises have been improved and they required certain exercises machines for work out. Now, it is not necessary to mark a ground for exercise and spend hours for fitness.
This has become possible because of machinery that requires less space at home and less time to focus on your fitness. On the other hand, these machines provide pure focus on certain body parts instead of general body exercise; therefore, any body part can be improved depending upon the personnel wish. The companies providing the exercise machines are also providing the repair services and warranty to fix the problem in them. Therefore, in the case of any complaint, a letter can be written to a service center to solve the issue.
Complaint Letter for Exercise Equipment
Resort Residency
Jack D. Wilson
Block 40C, Beach Avenue, New Jersey.
July 13th, 2017
Mr. Xavier Wordsworth
Shining Equipment Company.
21 Town St. Sun Set Avenue, New Jersey.
Dear [Recipients Name],
I hope you are fine. I have bought a treadmill from your company two weeks ago, this machine provides the features of pulse rate, time and distance covered by the individual. Since the first day, it is not providing the exact distance covered by an individual on its screen. I went through the user manual but no useful information in this regard is provided to the users. I had also made a phone call to customer care services but I got nothing instead of few useless instructions. Therefore, it is requested that the problem may be solved on urgent basis and warranty may be claimed for the said issue as deemed appropriate.
Looking forward to your urgent response.
Sincerely,
Jack D. Wilson.
Download Details: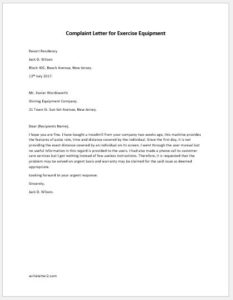 Complaint Letter for Exercise Equipment

Size: 54 KB Word .doc File 2003 & later
Download
Mobile Version: Polaris Office & Google Docs
Size: 17 KB File
Download
[personal use only: Not for Resale & Distribution]