Letter to Request Cancellation of an Insurance Policy
You may take a policy i.e. life insurance policy, car insurance policy etc. and may also want to cancel it due to one reason or the other. It is sometimes after taking choices that one realizes his selection was wrong. Insurance plans are made with careful strategies so as to attract maximum people but even then, one can lose interest in a policy or would want to look for other choices. In such situations, the first thing one should do is to request the relevant company to cancel the policy. Insurance companies have their policy cancellation rules defined and hence the policies can be canceled anytime remaining compliant with the company's terms and condition.
Here's how you should write policy cancellation letter;
Since it is a very formal letter. Keep it relevant and clear. Say in the very opening why the letter has been written.
Request the company to inform you of cancellation and provide a written proof.
Sign your letter properly.
This letter can be used to request the cancellation of a policy.
Letter of Request Cancellation of an Insurance Policy
Dear [Name],
Please accept this formal request for cancellation of my life insurance policy with you, the reference number of which is #123456. I want the cancellation to take effect from [enter date]. Also, I request you to refund the remaining dues and provide me with a written confirmation when the policy is canceled. Thank you!
Sincerely,
Download Details: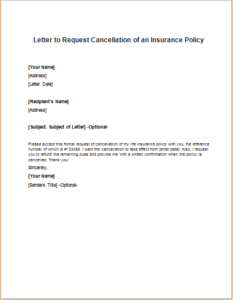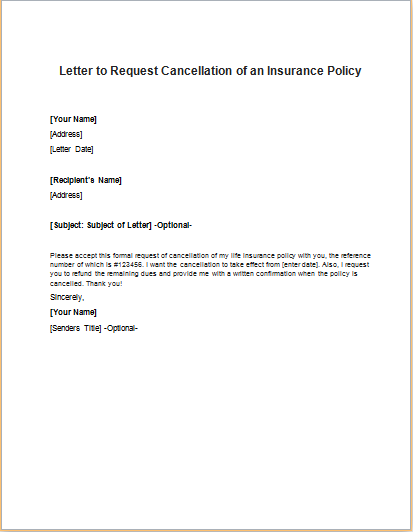 Letter of Request Cancellation of an Insurance Policy
Size: 25 KB Word .doc File 2003 & later
Download
Size: 159 KB PDF File
Download
[personal use only: Not for Resale & Distribution]