Request Letter for Office Equipment Replacement
1:
Subject: Request for office equipment replacement
Dear Sir, through this letter, I would like to draw your attention to a problem which we are facing nowadays. You know very well that the company started functioning ten years ago and I am an employee since the very first day of its establishment.
On the very first day, we were provided computer units, two printers, and a photocopier machine. I regret to say that we are not able to work efficiently on this old equipment since these are old ones and therefore, there is a dire need to replace this office equipment again.
The processing speed of these old model computers is very slow due to which rapid working is no more possible. These old model systems need to be replaced by new generation i-3 or i-5 instead of Core 2 due.
Similarly, our old printers are printing at the rate of 5 minutes per page and under such a huge burden of work, nobody can wait for so long in order to get his pages printed after completion of an assignment. Therefore, we need to replace these printers with new ones that can print at least 40 pages per minute. Moreover, the photocopier machine has to be replaced by an automatic machine.
Dear Sir, it must be noted that I am not forwarding this request for my own sake rather I have requested to replace the above-mentioned office equipment for the betterment of the company. Therefore, keeping in view all the situations, I hope that you will pay personal attention to this request and replace this office equipment as soon as possible in order to enhance the efficiency of our work. Thanking you in anticipation.
Yours affectionately,
[XYZ]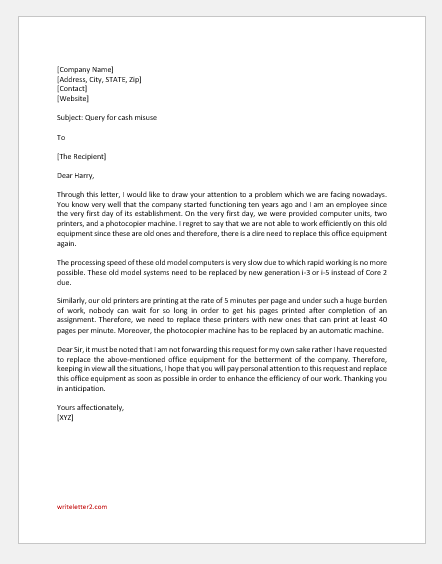 Size: 21 KB Word .doc File 2003 & later
Download
---
2:
Subject: Request for office equipment replacement
Dear Sir,
My name is Johnson, working as an assistant manager in your company. Through this letter, I want to forward my formal request for replacing the old office equipment which we have been using since the very first day of the establishment of this company.
As we have been using this old equipment, our working in terms of efficiency has been reduced to a significant level and work is no more productive. In this era of technological advancement, it has become a reality that in all industries, office equipment must be in top condition.  
You know that we have to deal with a lot of office work, and it becomes hectic when your office equipment is not in a good condition. We are heavily dependent upon this equipment and owing to their importance, the equipment such as computers, printers, photocopier, telephones, and papers have also been given the status of workers because, in their absence or non-availability, the whole work suffers.
And if the equipment of any one of the workers is not in a good condition, the whole team can suffer which is alarming.  
Keeping in view the above-mentioned condition, I am of the view that the company's business can fall in presence of old office equipment because they yield less productivity, efficiency, and reliability of this old equipment is suspicious as well. So, I am requesting you again to replace this old equipment with the new ones because only then, we would be able to work with our full potential while the rapidity and productivity of the work will obviously be enhanced. Thanking you in anticipation.
Yours sincerely,
[XYZ]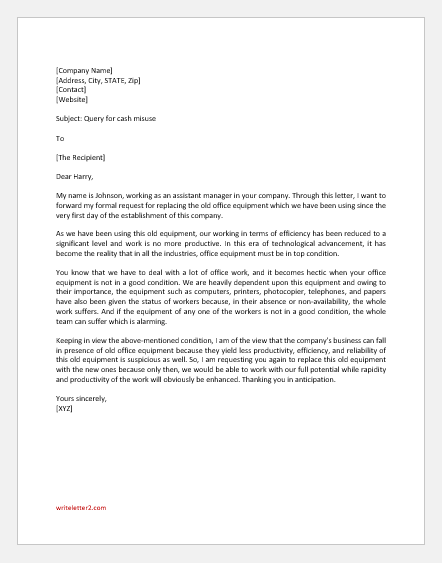 Size: 21 KB Word .doc File 2003 & later
Download