Letter for Early Termination of Lease Contract
A lease is an agreement between the owner of the asset and user of the asset. It consists of names of the parties, renewal process, starting and ending dates, security deposit terms and some specific conditions depending on the type of contract.
These types of contracts can be for an apartment, house, office or building. The user of the asset or property is bound to follow properly. If not followed, it can be terminated. Some crucial circumstances lead to the improper following which can be accepted if informed timely.
The landlord has much more authorities than a tenant. Some leases are cancellable and some are non-cancellable depending on the nature of the agreement. Various situations come under which the rental contract needs to be terminated. Sometimes the landlord needs to sell or demolish his property. Sometimes, the tenant finds a more suitable job in a far-off place. All such situations come under early termination of the lease contract.
Letter for Early Termination of Lease Contract
Dear [Recipients Name],
I regret to inform you that I am terminating the lease contract on 13th January 2017 which was supposed to end on 15th July 2017. I had already discussed the matter with you that I am receiving multiple complaints from your neighbors about loud noises, late night gatherings, and parties. And, you are also becoming habitual of late rental payments.
Many times, I tried to settle the issue with you directly but all in vain. Therefore, I have finally decided to terminate the lease contract to avoid any misconduct and complain. This was also the part of the contract that any complaint from any resident of building or security staff would lead the contract to the termination and you would be informed prior two weeks to find out the alternate place and vacate the building in a stipulated time frame. Above in view, it is, therefore, requested to vacate the place prior 1st February 2017 and clear all due charges.
Forwarding this letter to you to avoid any inconvenience.
Sincerely,
Download Details: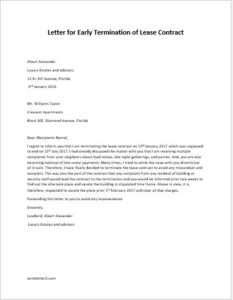 Letter for Early Termination of Lease Contract
Size: 78 KB Word .doc File 2003 & later
Download
Size: 327 KB PDF File
Download
[personal use only: Not for Resale & Distribution]