Thank you Letter to a Priest/Pastor
There come such moments in life when a man needs the help of someone. Because we are living in a society and none of our events compiles without taking help from others. Sometimes we realize the efforts of someone and vice versa. But it is our moral and social responsibility to appreciate the efforts put in by someone to help us whether it is little or big.
This applause will raise the morale and self- esteem of the person to repeat it next time with new zeal and spirit. This praise may be in terms of your conduct, a suitable gift, and oral or in shape of the letter. But writing a letter is the best option in this regard because it would be memorable for collaborator throughout his life.
In other words, we would mummify our thanks while writing a letter of thanks to our aide. This will also raise your conduct as well as spirit to do more good deeds in the heart of the other person.
1-
I want to thank you for all the support and guidance you gave me and my family in the last two months when we were going through a very hard time. On [date] my eight-year-old daughter went to a pool party and fell in the swimming pool.
She stayed under the water for twenty minutes before being rescued by the EMT. The doctors told us to be mentally prepared for the worst. We were devastated and in this dark time we turned to the Church.
I still remember the first time we met you. Your words filled me with hope and peace and for the first time after that incident I actually felt that we might get our daughter back. The prayer vigils you held and the way you stayed in touch throughout her hospitalization, encouraging us and giving us hope. Your words were a beacon of light which carried us through this time.
When our daughter woke up from her coma, you were the first person we informed after family. We honestly feel that we would not have passed through this horrible incident if it were not for your invaluable support.
In the end I would like to say that I am proud to be a member of this Church and would always remember the help and support we got from you and the congregation.
2-
I am writing to extend my gratitude for the help we received from you and your congregation in raising funds for the war struck areas of [name]. The conditions in [city] are worsening with each passing day. The ongoing clashes between the government and the rebel groups are causing civilian casualties and damaging the already poor infrastructure in the country.
[number] people have lost their houses to the bombing. Thousands of refugees have reached the [country] border fleeing their homes to save their lives. [number] hospitals have been destroyed. In these refugee camps, there is a shortage of food and medicines.
As winters are approaching, the refugee's problems are increasing as they need warm clothes to survive the harsh weather. The majority of the population in these camps comprises of women and children below the age of twelve.
When we approached your Church for help in raising funds for these poor refugees, your kind demeanour and warm response really touched our heart. The overwhelming response of your congregation has really touched our heart. The funds we have generated are more than we hoped for, and they will go a long way in helping the people who need them.
We would keep you in the loop and tell you where and how the funds were used. We would especially want to mention the two doctors in your congregation who volunteered to visit the camps and treat the patients. Currently travel arrangements are being made to take them to the camps.
We are deeply touched and moved by the response of your community. If we all stand by each other, we can do a lot of good and become a source of comfort and ease for the poor people suffering around the world. God bless you. Keep up the good work!!
3-
Starr Aaron
Block 34B, Crescent Avenue, New York.
[Date]
Mr. Carl Burton
Pastor
Divine Truth Church
21 St. Five Star Avenues, New York.
Dear [Recipients Name],
I hope you are enjoying your health and preaching with full of your zeal. I am writing a letter to thank you for giving your valuable time to our organization. Your lecture was full of moral, social and religious values. Now we can fulfill this responsibility with a new pledge which sometimes we overlook because of our materialistic approach.
My all colleagues were also very thoughtful after attending your lecture. At the start, it was a purely religious motivational lecture but the way you linked it up with every walk of life was marvelous. You gave us new thoughts about helping others in life and ways to spend a successful life.
We would like to keep in touch to seek guidance from you. I hope you would be available and spare your time next time too. Please keep updating us with such lectures in future.
Always remember us in your prayers.
Sincerely,
Starr Aaron
Download Details: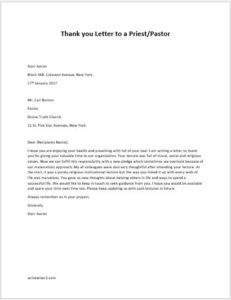 Size: 28 KB