Complaint Letter for Clerk's Rude Behavior
Behavior is the most vital part of a person's personality. Personally or professionally one's life revolves around how he behaves. Firstly, our behavior is built with the brought up by our parents. In this phenomenon, the environment of the home also matters a lot. Secondly, our educational career also influences a lot of our behavior. Good behavior adds grace to personality. A person with good manners is esteemed in every walk of life. A person with good manners and behavior knows how to cope with tough situations. Such kinds of people never lose temper in hard situations. In contrast, a person who is ill-mannered is always hated by the society. And people try to avoid the company of these kinds of people. In short, one must try to be as polite as he can both personally and professionally. When some rude behavior is being observed in the work environment, complaint or warning can be given to be careful in future.
Complaint Letter for Clerk's Rude Behavior
James Darwin
56 St. Red Star Avenue, Florida.
July 29th, 2017
Mr. David Wheelock
The City School.
15 St. Crest Avenue, Florida.
Dear [Recipients Name],
I am hereby to complain about the rude behavior of your clerk. Yesterday, I came to the school for taking the registration form for my son. I became a victim of your clerk's rude behavior. When I entered the reception to ask about the registration form, he responded much rudely. He was busy in gossiping and eating. He said so rudely that come after twenty minutes. I kept on insisting him to give me the forms as I took half hour short leave from my office. He just shut the window in the end and made me wait for an hour. Even after an hour, he did not open the window. And I went back without the form. I am much annoyed from his behavior. I request you to take strict actions against him. This behavior is not acceptable from an educational institution where the basic motto is good manners. I request you to give grooming classes to your employees.
Sincerely,
James Darwin.
Download Details: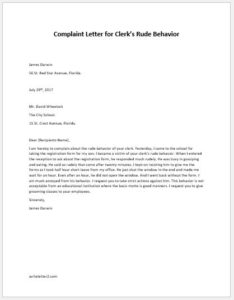 Complaint Letter for Clerk's Rude Behavior

Size: 23 KB Word .doc File 2003 & later
Download
Mobile Version: Polaris Office & Google Docs
Size: 24 KB File
Download
[personal use only: Not for Resale & Distribution]