Overdue Payment Collection Reminder Letter
A recovery letter is a formal reminder to the client for the recovery of payment. This letter should contain all the details including the outstanding amount and any interest charged on the outstanding balance. Further actions to be in event of not paying the outstanding amount should also be included in the letter.
The overdue payment collection reminder letter should include the date on which the amount is overdue and should have been paid.
Whether interest is payable or not on the overdue amount.
What is the amount of interest payable?
What will further actions be taken if the amount remains overdue even after the overdue reminder letter has been sent?
LETTER
Dear Sir,
We are writing to inform you that you placed an order with us for [products/services]. The invoice for this order was sent to you who had to be paid on [date]. Unfortunately, we did not receive the payment yet. We just thought to give you a polite reminder in case you forgot to make the payment.
Your outstanding balance is [amount] against the invoice [number]. We are looking forward to receiving the payment in next 10 days. You can contact us on [number] and advise us as to when should we expect to receive your payment. You also discuss with us, if you wish to make other financial arrangements.
We are accepting payments from debit as well as credit cards also.
If you have already sent your payment and we have not received it yet, we would like to thank you and accept our apologies for any inconvenience this letter may have caused.
Sincerely,
[Manager Name]
Download Details: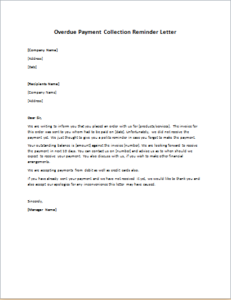 Overdue Payment Collection Reminder Letter
Size: 25 KB Word .doc File 2003 & later
Download
Size: 193 KB PDF File
Download
[personal use only: Not for Resale & Distribution]