Letter to Cancel a Reservation of a Conference at a Hotel
The conferences are held to introduce new products or resolve the problem related to some particular issues. The agenda points are circulated beforehand. Therefore, the conference room provides the platform to a company to represent its stakes directly. All the stakeholders are present at the conference; therefore, it is easy for the company to convey its message and communicate directly to the stakeholders and resolve the issue at the spot. Furthermore, the company can present its products and comparative analysis with other products available in the market. If the points are communicated well, then an agreement is signed keeping in view the terms and conditions. In short, such conferences provide direct access to sellers to launch its product in the market and buyers to proportional scrutinize the products with respect to its quality and price.
The reservations in such conferences are performed in advance to inform the organizer and if the plan is not matched with the schedule or in case if no participant is attending it then organizer are informed through a letter to cancel the reservation.
Letter to Cancel a Reservation of a Conference at a Hotel
Advanced Micro Devices
Alex Steven
14 St. Columbus Avenue, West Virginia.
12th May 2017
Mr. Kyle Eli Carter
Commercial Metals Company
54 Boulevard St. South Coast Avenue, New Hampshire.
Dear [Recipients Name],
I am writing a letter to cancel the reservation of the conference being held on 25th May 2017 in the main conference room of your hotel. The reservation number for our company is PLKU-3328. It is prudent to highlight that the received agenda points are not matched with the products of our company. And our company does not have any plan to invest or launch the products in the mentioned domain. Secondly, the new products launching ceremony of our company is planned on the same date and efforts are on hand for preparations of the same. Therefore, it would be futile to attend the conference on subject products and its future scope. I am grateful for your invitation and consequently reservation in advance.
Looking forward to your kind response.
Sincerely,
Alex Steven
Marketing Manager, Advanced Micro Devices
Download Details: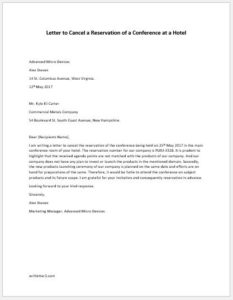 Letter to Cancel a Reservation of a Conference at a Hotel

Size: 33 KB Word .doc File 2003 & later
Download
Mobile Version: Polaris Office & Google Docs
Size: 21 KB File
Download
[personal use only: Not for Resale & Distribution]