Email to HR for Receiving Less Salary this Month
#1
Re. Enquiring about the Incorrect Salary for [X]

Dear Sir, I hope you find this email in the best of your health. I am writing this email to enquire about the incorrect amount of salary credited into my account. I am working here since March 20XX and I have never encountered such an issue before. 
I work as an Assistant Web Developer (AWD) in the Department of Web Designing and Development. I received my salary for the current month on 7th May 20XX which was USD 2500 according to the slip I received from the Accounts Department. When I checked the details digitally through my mobile banking app, I realized that I had received USD 1950 in my account. I enquired the Accounts Department and the Manager told me that the problem pertains to the bank and hence it needs to be dealt with by the Bank staff in all ways.
I visited the bank yesterday and I was informed that the bank did not make any deductions and the amount credited to the bank account was USD 1950 only.
Therefore, I am writing to you to look into this matter because the Accounts Office is paying no heed to this. I am hopeful that my grievances shall be dealt with by Human Resources and investigate the less credited amount.
I request you to interrogate the Accounts Office for not looking into this matter and disregarding my requests. I am looking forward to your response on [X] or call me at +[X]. I shall be grateful to you for this.
Regards
Andrew Haute
Assistant Web Developer (AWD)
Department of Web Designing and Development 
G-Star Groups of Tech Industries
P-90 HC Square, Boston
CA, USA.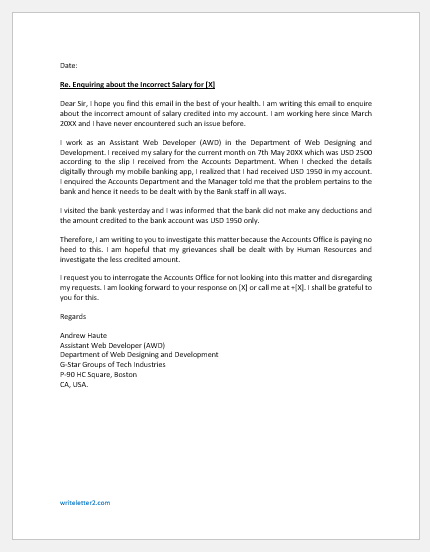 Size: 21 KB Word .doc File 2003 & later
Download
---
#2
Re. Email for the Less Amount of Salary Credited for the Month of May 20XX w.r.t. Pay Slip 2901-D
Dear Sir/Madam
I am Julia Riana, the Assistant Project Manager from the Department of Development and Planning. I am writing to bring your attention to my grievance on the crediting of less amount of salary than my actual salary. I notified the department of Finance and Accounts twice, but they did not take notice of this matter.
My actual salary is USD 3000 but the amount added into my account was USD 2800. The reason behind the deduction of USD 200 is not any reprimand or fine as I have checked every detail in the monthly review. It has been confirmed by the Administration that I am not liable for any fines or other deduction in the amount of May's salary. Therefore, I contacted the Department of Finance and Accounts and complained about the deposition of less salary, but my complaint went unattended.
However, I was told by the administration that the matter would not be resolved until I write to Human Resource Management. I am writing to you to pay kind attention, investigate the matter, and navigate me through this. I request you to instruct the Accounts Department to deposit my actual payment of salary and avoid muddling the salary payment in future. I shall be grateful to you for this. Thank you in anticipation.
Regards
Julia Riana
Assistant Project Manager
Department of Development and Planning
GALE House of Tech and Software
Boston, CA, USA.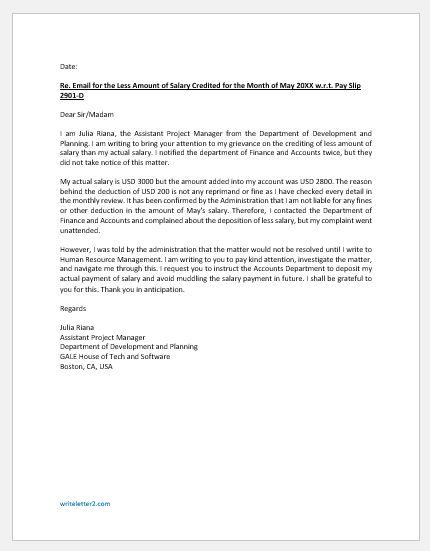 Size: 19 KB Word .doc File 2003 & later
Download