Letter of Interest in a Project
1-
I recently learned through your website that you have a recycling and waste management project coming up. Sir, I wish to inform you that I am interested in this project and want to participate. In case you are looking for experienced people in this field, I would like to present my expertise.
I have done my Bachelor's in environmental biology and my area of specialization is waste product management. I have been working for the past five years with a company that recycles plastic waste from hospitals and turns it into grocery bags. I have also had a six-month training from the UK Centre of Environment conservation and have worked as a volunteer in the recycling waste team. I believe that my academic qualification and my experience are relevant to your project, and I can prove to be a good addition to your skills team.
I would be grateful if you consider me for any possible vacancy in this project. You may contact me at [X] for any further information you may require about my work experience and past projects. You may also reach me through my personal contact number [#] on weekdays. In addition, I have also attached reports of a recycling project that I recently finished successfully and the revenue I helped generate.
I hope this will give an insight into the kind of work I have been doing. Looking forward to hearing from you.
Thank you!
Yours sincerely.
Ms. Ingrid John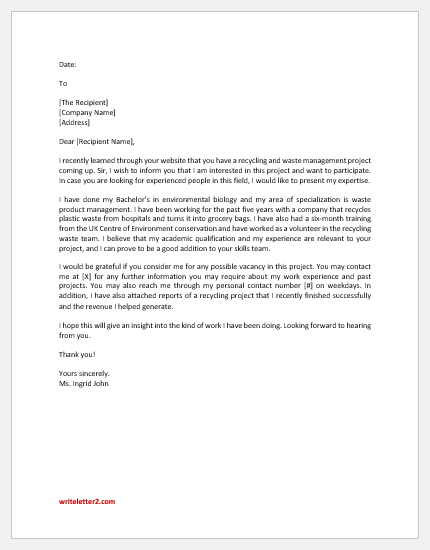 Size: 13 KB Word .doc File 2003 & later
2-
Dear Mr. Johnathan Smith,
Good day! I came across a project regarding sustainable fashion that you are actively pursuing at the moment. You collect slightly used high fashion clothing items from people around the country and re-sell them at an affordable price to consumers around the world. I am highly interested in your business model and wish to join your team on this project.
I have been working on sustainable fashion myself for quite some time now and have been managing my own fashion brand called 'FindAgain'. At 'FindAgain', we refurbish or repurpose used clothing items and sell them to our local clients. I like the idea of your team taking this business to the global level which is why I am interested in working with you.
I have a clientele base throughout the country and can help introduce them to your business. I am trying to move to a project that is making international business and I believe that your business fits my interests well. With my ten years of experience with renovating and reselling used items, I am certain that I can prove to be a good addition to your team and help expand your project.
I have attached details of my previous projects and academic qualifications with this letter. Also, please reach out to me at [X] in case you have any further queries. I am really looking forward to hearing from you and I hope we will be able to work together in the near future. Thank you for your time.
Yours sincerely.
Samantha Jules.