Letter to Request Arrears
Sample Letter -1
Subject: Requesting arrears for [TEXT]

Dear Sir, my name is Johnson and I am working as an Assistant Director in the HR department under your kind supervision for the last five years. As per our company's policy, after completion of five years of service, I was promoted to the rank of Deputy Director, HR. with effect from 1st of March, 20XX.
As an Assistant Director, I was being paid an amount of USD 1500 in lieu of monthly payments. My problem is that, despite being promoted to a high rank, I am getting the same amount of salary as stated above. It means that I have not been paid any increment of a higher scale since the date of the promotion. Moreover, five months have passed and due to the non-upgradation of my salary, the amount so accumulated has also become an arrear which must be paid to me with the next month's salary.
I want to mention here that before writing and requesting you for arrears, I wrote several emails to the accounts department but they did not pay any attention to my request and they caused that much delay. Therefore, I request you to direct the accounts department to take the necessary steps in order for the timely payment of my salary and promotion increment arrears with the next month's salary. I shall be very thankful to you for this act of kindness.
Yours affectionately,
[XYZ]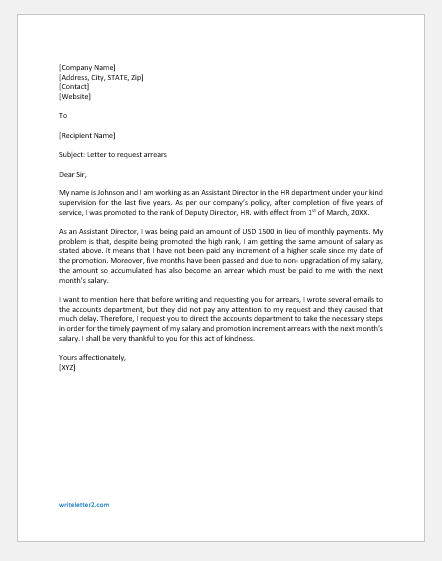 Size: 20 KB
Download
---
Sample Letter -2
Subject: Letter to request arrears
Dear Johnson,
I am Robert Lee, owner of the flat where you are residing right now. I am writing you this letter in order to remind you that there is some amount that is yet to be paid by you in lieu of arrears.
Dear Johnson, you are hereby notified that we entered into an agreement on the 1st of January, 20XX. Now, as my record is showing and as per the condition of our agreement, the total amount shown as arrears is summing up to USD 1500. This had to be paid on [date] but owing to the economic crises you faced in recent months, I did not demand that amount.
Now, as you told me that you have managed to come out of a hard time, I have full right to ask for arrears. Therefore, it is my request to you that the arrear amount must be paid within 15 days of you receiving this letter.
Moreover, I would like to inform you that in case of non-compliance, if you still do not pay the arrear amount to me, I will be forced to take legal action against you in that situation. Thanking you in anticipation for your kind cooperation.
Yours sincerely,
[XYZ]
Size: 19 KB
Download