High School Transcript Request Letter
This is a letter written to request the authority of original high school transcript and other important documents. It is a known fact that to continue further studies or even if you opt to apply for a job after graduating high school, you need these documents in order to proceed. This letter will begin with the required documents being mentioned clearly. Some institutions have different policies about the transcripts and other important documents, one most know the details of such rules before writing the letter. To mention your own personal details is also necessary. The letter body is written below.
High School Transcript Request Letter
[Your Name]
[Address]
[Letter's Date]
[Recipient's Name]
[Address]
[Subject: Subject of Letter] -optional

Dear [recipient's name],
I (sender's name) am a proud graduate and a gold medalist of the Lincoln High School. I am writing this letter to request the issuance of my high school transcript graduated in 2015. I am quite aware of Lincoln High School's policy and I know it will take around a week but I request an urgent delivery since the place where I applied for the job has asked for the complete documents till this Thursday.
I am aware of the charge of (required fee) for this document according to the rules. I have enclosed a money order of (required fee). And to help you access my documents my registration number is B-2156. I want these documents to be sent at my place. My address is (Sender's address). I hope that it won't take too long.
Thank you very much.
Yours Sincerely,
[Your Name]
Download Details: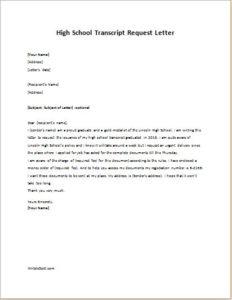 High School Transcript Request Letter
Size: 41 KB Word .doc File 2003 & later
Download
Size: 122 KB PDF File
Download
[personal use only: Not for Resale & Distribution]