High School Transcript Request Letter
This is a letter written to request the authority of the original high school transcript and other important documents. It is a known fact that to continue further studies or even if you opt to apply for a job after graduating high school, you need these documents to proceed.
This letter will begin with the required documents being mentioned clearly. Some institutions have different policies about the transcripts and other important documents, one must know the details of such rules before writing the letter. To mention your own personal details is also necessary. The letter body is written below.
1-
To,
Mr. Thomas Hopkins,
Headmaster Senior Wing,
Apex High School, Leicestershire
17th January 20XX
Respected Mr. Hopkins,
I hope this letter finds you in a good health and space. It is stated with due respect, that I, Sabrina Collins, have been a student at Apex High School from the year 20XX to 20XX and was enrolled in the Science group in the 9th and 10th grades. I have recently got my overall high school result which makes me included in the category of top 10 students who scored the highest last year.
I am now aiming to continue my higher secondary studies by opting for an Honors degree in Business Administration from Westminster University, London. I visited the high school and your office myself twice personally for the transcript of my grades but each time I was told that you are away for a meeting or off to a seminar. This way, I could not take your signatures on the request application, and hence, the department coordinator did not issue me the transcript.
I am now running short with the deadline date of applying to the universities and I need to get the transcript photocopy submitted with the application form, otherwise, the form would be rejected.
Thus, it is humbly requested that if you are somehow not available in the school for some more days, kindly ask the department coordinator to issue me the transcript so that I do not miss the chance of sending an admission application to the universities am interested to apply. I would be thankful to you for this act of kindness. Thank you.
Yours obediently,
Sabrina Collins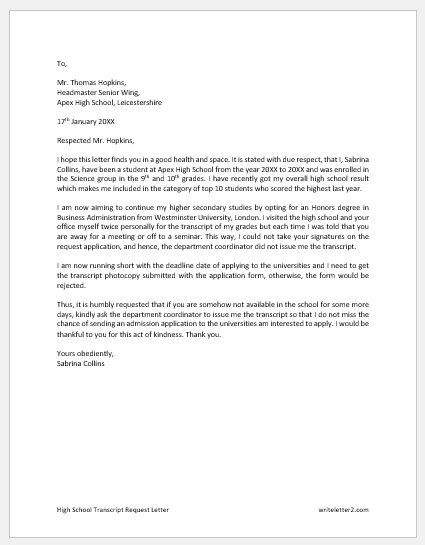 Size: 15 KB Word .doc File 2003 & later
2-
To,
Ms. Dolores Courtney,
Head Mistress Senior Wing,
Santa Clara High School, Yorkshire
17th January, 20XX
Respected Ms. Courtney,
I hope this letter finds you in the best of your health. With due respect, it is stated that I, Sarah Belem have been a prominent and a high scoring student at Santa Clara High School from the year 20XX to 20XX from the Arts group.
My high school result got out in 20XX, but I had to travel to my relative due to some personal issue and I just came back so that I can collect my transcript for further admission.
I aspire to be a fine artist in the future as you are aware that I have a natural talent for drawing and a passion for crafting things up. So, for the application process in the universities at higher secondary and tertiary level, I need to submit the photocopy of the transcript of my high school classes grades which I did not get a chance to get issued to me.
I hence request you, madam, to kindly place your signature on my application so that the department coordinator issue me my transcript. I shall be deeply grateful to you in this regard.
Yours respectfully,
Sarah Belem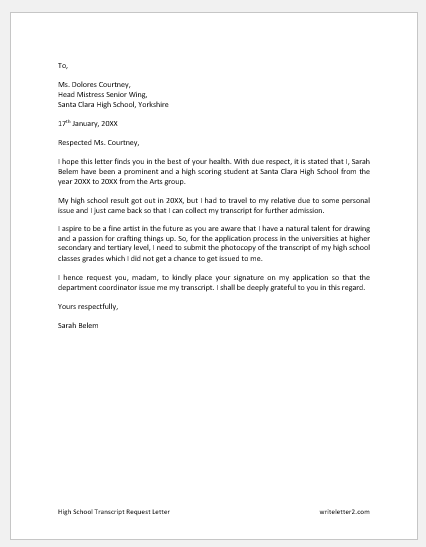 Size: 15 KB Word .doc File 2003 & later
3-
Dear [recipient's name],
I (sender's name) am a proud graduate and a gold medalist of the Lincoln High School. I am writing this letter to request the issuance of my high school transcript graduated in 20XX5. I am aware of Lincoln High School's policy and I know it will take around a week but I request an urgent delivery since the place where I applied for the job has asked for the complete documents till this Thursday.
I am aware of the charge of (required fee) for this document according to the rules. I have enclosed a money order of (required fee). And to help you access my documents my registration number is B-2156. I want these documents to be sent to my place. My address is (Sender's address). I hope that it won't take too long.
Thank you very much.
Download Details: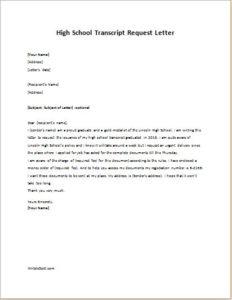 High School Transcript Request Letter
Size: 41 KB Word .doc File 2003 & later
Download
Size: 122 KB PDF File
Download
[personal use only: Not for Resale & Distribution]