Letter to Cancel Exhibition Slot due to Financial Problems
The exhibition industry has a vital place in educational as well as marketing perspectives. In schools, colleges, and universities various types of exhibitions are held. They can be for science, technology, health, career, etc. From a marketing perspective, exhibitions can be held for the launch of a new brand, new products, etc. In the service sector, again exhibitions can be held for introducing new dimensions regarding various services.
Technology exhibitions are for the introduction of various new equipment which can provide ease to human beings. The industrial exhibitions are held to introduce new plants and machinery for the industrial sector. Above all, the global world is full of promotions and the introduction of new tools. All this can become possible with the help of exhibitions.
The management of the exhibition is not an easy task. It requires a lot of effort and works to make it happen. Success depends on the efficiency of the organizers on how they cope and on the promotion to various classes of people. Sometimes financial issues arise due to which they are canceled or postponed. In such cases, informing the participants as well as the management is an important factor.
1-
I [name] am writing to request a cancellation of the slot which I had reserved earlier, in your prestigious Spring Gala Exhibition to be held on [date] at [venue].
I had reserved the slot [number] a month ago on [date] after making a payment of [amount] in the name of [account title]. I intended to display and sell exotic handicrafts made in the northern areas of Pakistan. I travel these areas every six months and collect the wares which I display in my stalls in Exhibitions like yours. When I had reserved the slot I had no idea that COVID would take the world in its grip and change the scenario entirely.
Just like every other business, my line of work was also affected adversely by this pandemic. Due to the extended lockdowns and travel restrictions I have not been able to gather enough funds to gather the merchandise required for the stall. I deeply regret the inconvenience this cancellation would cause you but it is not possible for me to gather the amount required to go ahead.
I am looking forward to your kind consideration and understanding of my situation and I want to request a refund for the amount I deposited at the time of reservation. Trust me I am very upset at having to let go of such an opportunity but my circumstances do not allow me to proceed with the earlier plan at this point. I would be grateful if you would look upon my case favorably.
2.
I [name] deeply regret to inform you that I would not be able to display my paintings at the slot I had reserved at the Annual Women Arts and Crafts Exhibition held by your prestigious NGO. I was looking forward to displaying my art for your worthy benefactors but due to certain financial issues, I cannot deposit the amount required to reserve the slot.
When I had initiated the reservation process back in [month], I was looking forward to receiving an outstanding payment and intended to use that as my reservation fee but when that amount came along with it came certain unavoidable expenses. Unfortunately, I am left with nothing to pay you.
The average foot traffic at your Exhibitions makes them very attractive to sellers of all kinds as such a high number of visitors ensures that the number of wares sold and revenue generated is considerable. Hence I am sure that you would have no trouble in filling the slot I have left and my cancellation would not hurt your business but still, I am very sorry for the inconvenience. It was not intentional or planned rather it's my hard luck.
Looking forward to doing business with you someday in more favorable circumstances.
3-
Creativity College of Science.
Alexander Jonathan.
32 St. Nightingale Avenue, Florida.
August 13th, 20XX
Mr. Jeremy Pivot.
Associate Director Exhibitions
Crescent Gallery Hall.
29 St. Eleventh Avenue, Florida.
Dear [Recipients Name],
I am writing to inform you that I want to cancel our slot in the 'Science and Creativity Exhibition' to be held on Wednesday 16th September 20XX due to some financial limitations. I strongly apologize for the cancellation. Our expenses are not meeting the requirements. Some of our projects are also not completed yet. Such limitations are compelling us to drop. I would request you to refund the registration fee.
As per the rules and policies of slot reservation, kindly deduct five percent of the registration fee. I look forward to being a part of next year. I again apologize for any inconvenience that occurred.
Hope you will have a wonderful day. Wish you success for the day.
Yours Truly,
Alexander Jonathan.
Assistant Professor, Creativity College of Science.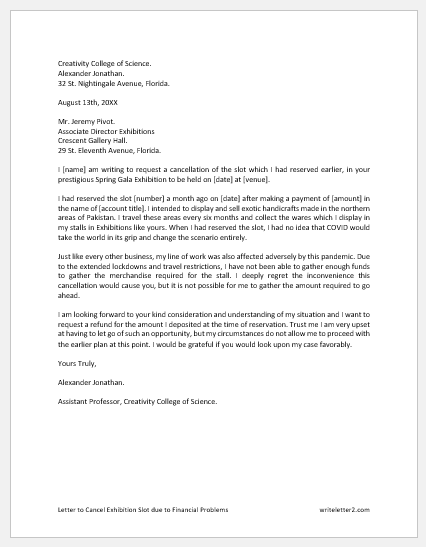 Size: 21 KB Word [.doc] File