Office Rental Termination Letter due to Space Limitation
Real estate housing is having far off business. Overpopulation results in space limitation. In this way, the trend of flats system is gaining wide acceptance. People opt for it because it is feasible to keep their families in the city where they are doing jobs. For various kinds of businesses and offices, tenants hire property from landlords. Sometimes landlords or tenants come across various situations in which they must terminate the contract before time. Space limitation issue can arise for certain offices or business.
Sometimes landlord wants his property back for certain reasons like starting a new business or investment as well as demolishing it. Some tenants who have applied for the jobs in foreign get it before the tenancy contract ends, so they must terminate the lease. The rental contract is in written form by the landlord if it is for more than a year. An Oral lease is also legally used for less than a year. A standard lease is always used by the landlords covering all favorable terms and policies.
LETTER
Life Zone Pharmacy
Morgan Steve
26 St. Castle Avenue, New York.
12th December 2016
Mr.  James Lopez
James Proprietors
Block 12C, Crew Avenue, New York.
Dear [Recipients Name],
I want to inform you that I want to terminate my office rental contract. Per the documentation, it will end on 23rd January 2017. You were being the cooperative and caring landlord I have met so far. In the past two months, I am facing the issues of space limitation in my office. Customers are unsatisfactory and making complaints. I must shift to wide area place as soon as possible. I have hired two doctors in my pharmacy due to which patient's rush is increasing day by day. I would like to have my security deposit back in the form of cash as I need it urgently. Please let me know if any formalities I must go through. I shall be very grateful to you for kind cooperation.
Waiting for your response.
Sincerely,
Morgan Steve
CEO, Life Zone Pharmacy
Download Details: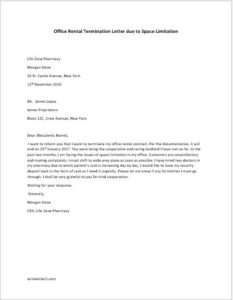 Office Rental Termination Letter due to Space Limitation
Size: 72 KB Word .doc File 2003 & later
Download
Size: 312 KB PDF File
Download
[personal use only: Not for Resale & Distribution]