Complaint Letter from Student for Low Grade
Education is the basic requirement of an individual to lead a successful life and success comes with hard work. Hard work is the most fruitful asset anyone can have so far. Nothing can be achieved without it. All great people only succeeded with hard work. They did not worry about the difficulties faced in doing hard work.
The students who make their motto for hard work never suffer from failures. In comparison, often a student faces the problem of lesser grades than his or her hard work. This problem leads to de-motivation and students start losing interest in their studies. It is the right of all students to get the grades per their hard work and effort. The teachers are solely responsible for being extra efficient and attentive regarding this matter.
As if students feel injustice, they simply start following wrong directions. They start having grudges with their mates in return. When a student finds, such injustice regarding his grades, he can formally write to his teacher to make him aware. So, that possible amendment can be done.
Letter -1
I [name] grade [number] am writing this letter to complain about my grade in Chemistry. Sir, I have been preparing for this exam for two months and I attempted the paper with full concentration. After finishing my paper, I rechecked all the answers and I think that I had attempted all the objective-type questions correctly. In subjective type questions, I think I had written all the points.
When I got my grade today I could not understand why my marks had been deducted as I was under the impression that I would be getting an A*. But my grade was B. sir this is going to affect my CGPA adversely. I would like my paper to be rechecked. Also, I am attaching the aggregate of all the assignments and midterms, please see if you have the same number.
I would be very grateful if you could take out some time and look through my paper and point out my mistakes so that I at least know where I lost my marks.
Looking forward to your kind consideration.
2-
I [name] am a student of grade [number] and I take your French class. Our mid-term result was posted online today and I was surprised to see that I have been awarded a C grade.
Ma'am I have worked very hard in this entire term not just to get a good grade but to increase my proficiency in French and I feel that my spoken and written language have both improved greatly over this time. In our oral exam, you yourself praised my skill and vocabulary. In the written exam too, I felt that I have performed well. So when the grades came it was a shock for me to see that I have scored so low.
Ma'am please recheck my paper and give me some time when I can come see you and discuss my mistakes with you. I am sure when you go through my paper again you would see my hard work and dedication.
Looking forward to a positive response.
3-
Charlie Wordsworth
Block 23B, Big Bird Avenue, Florida.
September 23rd, 20XX
Mr. Dylan Samuel
Teacher
Florida National School
13 St. Dove Avenue, Florida.
Dear [Recipients Name],
I hope you are doing well. I am writing to complain about my grades for the spring assessment. I am not satisfied with the grades of my geography project and history essay. The project I was supposed to make in geography about floating oceans was awarded the first position in the project competition held last week. But I got a B grade. I am extremely disappointed. I must be given grade A as the Principal himself considered it the best.
I did a lot of hard work on this project which can be easily seen on it. And, also, I got a B grade on the history essay which is also against my hard work. I have completely followed the correct format and quotations you gave to the class for this essay. I always work hard to meet the required standards.
Please resolve my issue and contact me at [EMAIL]
Sincerely,
Charlie Wordsworth.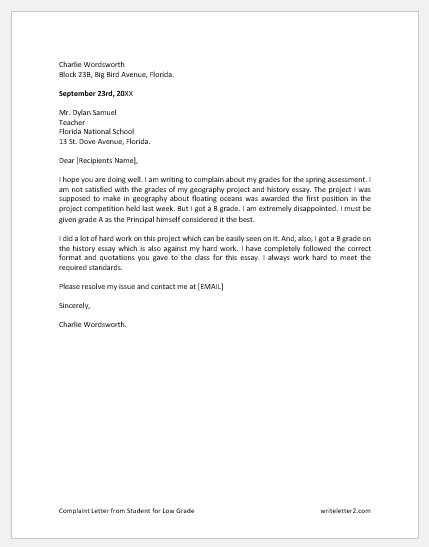 Size: 22 KB Word [.doc] File