Letter to Criticize a Distributor for not complying with Terms
Your business can fly if you have a good distributor. The chances of success are higher when there's a good distributor but at the same time, the chances of failure are even more when you rely on an irresponsible distributor for your business. While making contracts with the distributors, it is important to clarify the terms and conditions properly.
You don't always have to cancel a contract with a distributor but there are times when there's a dire need to reprimand or criticize a distributor for the good of your business. However, it should be kept in mind that the professional sphere requires you to remain professional as well as ethical even in the unpleasant situations. Therefore, while writing letters of criticism, apart from making mention of the weaknesses of the person, it is recommended to suggest him how he can improve his shortcomings. This letter can be written to a distributor in order to criticize him for not complying with the terms of the contract.
LETTER
Dear [Recipient's name]
Since you're our year's old distributor, I did not expect this irresponsible behavior from you. I'm sure you know quite well that we have never appreciated cheap publicity for our products. We pay heavily to our employees and distributors to make door to door campaigns in order to do a reliable and far-reaching publicity. We could have advertised our products using the commonly used tactics but we always remained ethical and in boundaries to do everything with quality.
I have been informed that to raise your sales, you have started doing the publicity of our products using the means of cheap advertisements. I'm certainly sorry to know this. The contract clearly prohibits our distributors to make such publicity on their own while they use the name of our company or products.
Though it was a serious breach on your part since you are our old distributor and this is the first time that we have a complaint from you, you deserve forgiveness. I am overlooking this mistake but am extending hopes that you'll not give another such chance to write a letter of this type to you. Kindly stop all such advertising techniques that are prohibited as per contract and follow the contract fully. Thank you!
Sincerely,
[Your Name]
[Your Title] -Optional-
Download Details: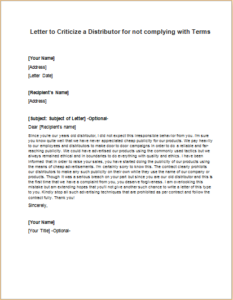 Letter to Criticize a Distributor for not complying with Terms

Size: 25 KB Word .doc File 2003 & later
Download
Size: 163 KB PDF File
Download
[personal use only: Not for Resale & Distribution]