Warning Letter for Misuse of Electricity in Office
Letter 1:
Subject: Warning for misuse of electricity in the office

Dear employees,
I am Hood, CEO of the company and I have been forced to issue this warning letter when yesterday, I received the electricity bill which was showing an excessive usage of electricity as compare to previous months which is an unacceptable and unethical thing as well.   
Being a precious resource, electricity must be conserved and its usage must be minimized. Excessive usage of electricity is not only problematic for the environment but also creates financial problems for the company. Everyone in the office is well aware of the fact that a fair electricity policy was introduced last year keeping in view the same problem. It was clearly mentioned that electricity will only be used for work-related tasks and all those tasks mentioned under section [mention number] of company rules. Misusing in any form has been declared as outlawed and could result in strict disciplinary action.
Through this letter, you all are hereby warned that all the company's belongings including the electricity must be used only when these are needed. It must be mentioned here that the kind of behavior being shown by you all in terms of using electricity is usually considered as misconduct at the workplace and we have no space for such conduct of the employees. Electric appliances including fans, heaters, lights are meant to be used only during working, and during off time, these must be nonfunctional.
So be alert and stop misusing electricity in the office. Moreover, any employee found misusing the electricity or other belongings of the company, severe action will be taken keeping in view the nature of the incident.
Yours sincerely,
[XYZ]
Size: 21 KB Word .doc File 2003 & later
Download
---
Letter 2:
Subject: Warning for misuse of electricity in office
Dear Johnson,
I reserve my full rights to issue you this warning letter on account of misusing the electricity during and after working hours. No doubt you are working as an assistant manager in this company and have been allocated a separate office within office premises but the policies regarding usage of electricity and other company belongings have been made for all employees regardless of their posts and these are meant to be followed by all means.
Your manager has following allegations:
All employees go outside during off time for taking tea but you make your own using an electric kettle.
Since there are central heating and cooling system in the office, you do not follow the rules and use the electric heater in your own room.
You get your room locked during off time leaving on electric appliances.
Usage of electricity within certain limits is allowed only during working hours but the way you are using it is totally unacceptable. My dear, your manager has already warned you to refrain from such behavior but it seems that you did not pay much attention. So please consider it as a formal warning letter from my side now. Please take this letter seriously and make sure not to show such mistakes in the future to avoid any inconvenience.
Yours sincerely,
[XYZ]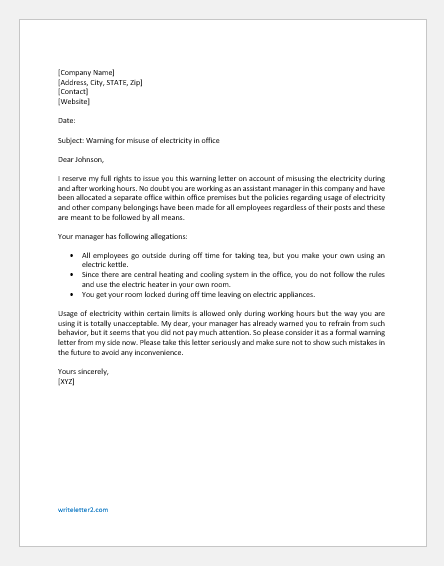 Size: 22 KB Word .doc File 2003 & later
Download