Letter to Confirm an Authorization given to someone
You may own authority of something and may sometimes have to transfer that authority temporarily or permanently to somebody else. For this reason, authorization letters are written. Authorization letters are also legal letters which mean they can be used as a legal proof in case needed. The already granted authorizations at times have to be refreshed by writing confirmation of authorization letters.
In such a letter, the sender mentions the matter or thing the authority of which has been granted and confirms his granted authorization. Since authorization or confirmation of authorization letter is a legal letter it should be signed by the sender to confirm the letter has been written by him.
Letter to Confirm an Authorization given to someone
Dear [Recipient's Name],
My child is studying at your school in [enter grade]. I am writing to you in order to inform you that due to having a busy business schedule, I shall be traveling throughout the year and will not be able to attend the parent-teacher meetings at the school. Mr. [enter name] has been tutoring my child since [enter period] and has been attending the meetings on my behalf. I would like to confirm his authorization to work in my absence as my child's guardian for all the matters related to my child. During the course of my absence, if any kind of consent or authorization letter would be required, his authority should be considered. Thank you!
Sincerely,
[Your Name]
[Senders Title] -Optional-
Download Details: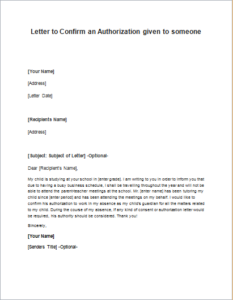 Letter to Confirm an Authorization given to someone
Size: 25 KB Word .doc File 2003 & later
Download
Size: 170 KB PDF File
Download
[personal use only: Not for Resale & Distribution]