Recommendation Letter for Human Relation Manager
A letter of recommendation for the human relations manager can be very helpful in hiring a human relations manager. This is the major part of the set of job applications for the post of relationship manager in any firm. A good recommendation letter can be very helpful for the person who wants to get hired as a relations manager. The value of a job application increases if it contains a recommendation letter.
The main purpose of using the letter of recommendation for the relations manager is to let the employer know about the skills and abilities of the candidate who has applied for the job post of relations manager. This letter highlights the abilities, personal information, and qualification details of the applicant which will help him in fulfilling his/her job responsibilities.
The letter of recommendation is not compulsory to be added to the job application however, some employers make it compulsory for the candidate to take the letter of recommendation from their previous employer.
Sample Letter #1
I am feeling very happy for recommending [NAME HERE] for the job post of Human Relations Manager. He/she is well-known in the company because of his/her excellent performance. I can verify that he/she is the best employee and the best colleague to work with as I have worked with him/her as a supervisor for four years.
I can say with surety that [NAME HERE] will be an excellent addition to the staff of your company. If you need any additional information regarding his/her professional profile, you can contact me.
#2
TO WHOM IT MAY CONCERN
It is my pleasure to recommend Mr. Jackson for the post of Human Relations Manager. I feel sad to see him leaving my organization but honestly speaking, it is the best time for him to move into a more esteemed organization just like yours. I recruited him ten years ago and since then, he has been working under my direct supervision. He has the ability not only to cope with stressful conditions but to thrive in them.
He will prove himself an outstanding choice for your company because he has been bestowed with such traits as strong business ethics, a high level of morality coupled with an impeccable character. I can say without any doubt that he will be a valuable addition to your company.
He worked on several projects under my supervision and impressed me through his exceptional abilities to handle the toughest HR functions. He was in a habit of coming to the top even during stressful circumstances. He also proved himself a great learner.
Throughout his stay in my organization, he took every single opportunity to make himself professionally better. He did not give me any chance to complain because he used to complete tasks well before time.
By virtue of his unique abilities, he increased the efficiency and functioning of the HR department through effective HR policies. In short, Jackson is a highly capable individual who has extensive experience in the field of Human Resources. I strongly recommend him for the post of human Relations Manager. I am sure he will shine and make his own place in your company.
If you require any other information, I can be contacted through email.
Download
---
#3
TO WHOM IT MAY CONCERN
I am feeling immense pleasure while writing this recommendation letter for Mr. Lee as a candidate for Human Relations Manager. I have worked with many HR professionals and internees over my 30 years of service. Lee is the professional who stands with distinction amongst all of them. He has been working under my direct supervision for the last ten years. I always found him an individual with a pleasant personality.
I was impressed by his hardworking attitude because he had taken full responsibility for the department being an HR officer. He put all his efforts to achieve the organizational goals. If necessary, he used to stay for extra hours and participated in all departmental meetings and conferences.
By means of his effective HR techniques, he almost doubled my organization's revenue while working single-handedly. Above all, he proposed a restructuring plan for salesforce which remarkably increased our sales capacity and reduced travel expenses.
He managed his team efficiently despite all time constraints. In my last meeting with him, he expressed his deepest desire to move for excellent growth. I felt sad that he wanted to leave us. But then, I became happy that he is likely to become an integral part of a prestigious organization like yours.
Honestly, I cannot see him leaving my organization, but I know this is going to be an important move for him for better career growth and personal reasons. If I am not wrong, he is a leader by birth. Confidence and decision-making power are integral traits of his personality. With good communication skills and a pleasant personality, he makes everybody feel happy around him. I am sure he will prove himself an excellent addition to your company.
I assure you that all the information given above is true to the best of my knowledge. You are requested to take this recommendation under consideration before you make any decision. Feel free to contact me if you need any further information regarding Mr. Lee.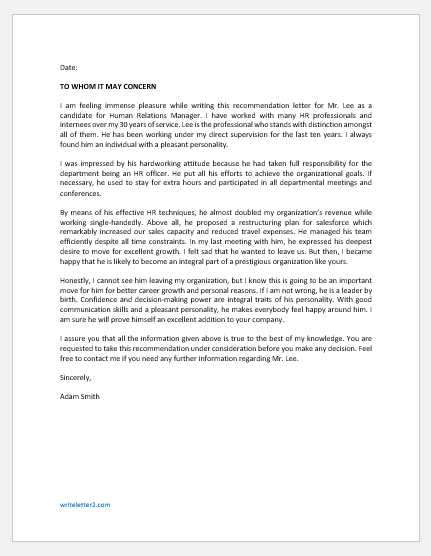 Download