Recommendation Letter for a Human Relation Manager
A letter of recommendation for the human relation manager can be very helpful in hiring a human relation manager. This is the major part of the set of job applications for the post of relationship manager in any firm. A good recommendation letter can be very helpful for the person who wants to get hired as relation manager. The value of job application increases if it contains the recommendation letter. The main purpose of using the letter of recommendation for the relation manager is to let the employer know about the skills and the abilities of the candidate who has applied for the job post of relation manager. This letter highlights the abilities, personal information and the qualification details of the applicant which will help him in fulfilling his/her job responsibilities. The letter of recommendation is not compulsory to be added to the job application however, some employers make it compulsory for the candidate to take the letter of recommendation from their previous employer.
Recommendation Letter for a Human Relation Manager
[Your Name]
[Address]
[Letter Date]
[Recipients Name]
[Address]
[Subject: Subject of Letter] -Optional-
Dear [Recipient's Name],
I am feeling very happy for recommending [NAME HERE] for the job post of human relation manager. He/she is well-known in the company because of his/her excellent performance. I can verify that he/she is the best employee and the best colleague to work with as I have worked with him/her as a supervisor for four years.
I can say it with surety that [NAME HERE] will be an excellent addition to the staff of your company. If you need any additional information regarding his/her professional profile, you can contact me.
[Your Name]
[Senders Title] -Optional-
Download Details: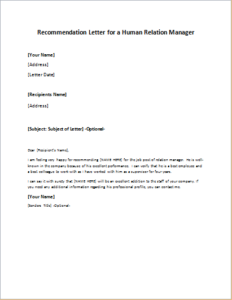 Recommendation Letter for a Human Relation Manager

Size: 30 KB Word .doc File 2003 & later
Download
Size: 193 KB PDF File
Download
[personal use only: Not for Resale & Distribution]