Termination Letter for Cheating the Company
Every company has specified a predefined set of standard operating procedures (SOPs) which helps the employees to carry out routine tasks in an organized and robust manner. These SOPs define the limits and procedures to the employees. Many of these SOPs have been drafted after various trials and tests and clearly delineates the red lines so that they do not get crossed at any cost.
Things like the company's resources, minutes of confidential meetings, cybersecurity, pilferage, tampering with accounts; these all are defined as red lines, and crossing them is tantamount to cheating. Strict disciplinary action needs to be taken against such offenders and for that, a company has formulated a draft specimen letter for details to be filled on a requirement basis.
The sample letter has been drafted as such that it can be used on a circumstantial basis filling in only the missing details, that is to say, the body of the letter remains generally the same, however, minute specific details (like employee's name, department, date of termination, benefits s/he can enjoy after termination, etc.) get filled later on. These specific details are highlighted in red italics in the sample letter.
An example of such a termination letter on account of cheating is appended below.
Sample Template:
Date letter is drafted
Employee Termination Letter 'On Account of Cheating'
(Employee Name)
(Employee Address and Contact Information
This letter DOES NOT come as a warning. It is hereby to inform you that your contract with (Company name) will terminate from (the date of termination). You have violated the Company's SOPs and shown utter disregard for the Company's name. This comes in the head of cheating and character failure and our company has the strictest of policies for employees caught doing such activities. Consequently, your tenure with us has come to an end. The termination has been carried out due to the following reasons:
(Reasons and facts leading to termination, if possible, mention the events with dates and records).
Since you have been a part of our health insurance policies, therefore after termination, your contract for availing such facilities will also terminate. However, till the time of your termination i.e. (mention date of termination), you will be able to enjoy/receive the following (mention all health benefits, compensations, etc. that the employee can use).
All the company's property/items held on your charge need to be returned before (mention date).
This decision is FINAL.
Note: If at all you have any queries, complaints or you want to know about the procedure for your current financial/ health/insurance policies and how your termination will affect them, you can contact our Human Resource department official (mention name, appointment, contact email and cell number) or write on (mention company's email id).
Our Company's policies regarding cheating are final and in no case, you will be allowed to apply for re-employment.
Sincerely,
(Mention name of official executing termination)
(Contact information, address, email id, cell number)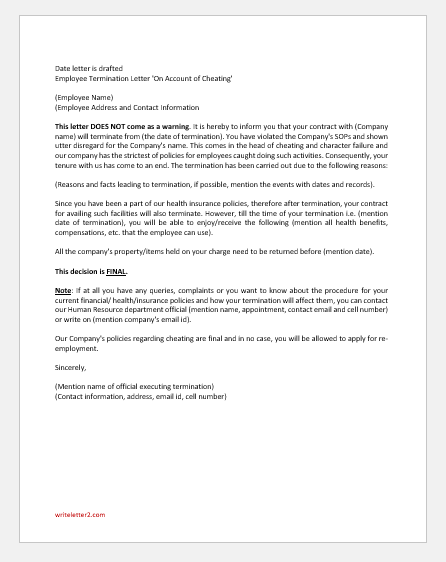 Size: 21 KB Word .doc File 2003 & later
Download