Letter to Compliment a Good Service
In our day to day affairs, we often tend to take services from other people or companies to carry out our routine tasks. These services have a very broad spectrum. They range from a simple gardening service to a legal firms help in some matter. An individual must appreciate and acknowledge another person's help or service. This not only encourages the other person but also lays the foundation for a strong and faithful long-term relationship between the two entities. For instance dropping by a small 'thank you note' to your hairstylist or someone who provided you with a massage service or maybe repaired your car will signify the amount of importance of that task to you. It will also make the other person feel good about themselves and their jobs. And they will certainly give you their very best for the next time also.
Letter to Compliment a Good Service
Audrey Charles
Block 53 C, Peking Avenue, Qingdao
7th October, 2016.
Ms. Kelly lee
Biao Spa and Skin Centre
5 St., Tiananmen Square, Beijing.
Dear [Recipients name],
I hope you are doing well. I am writing this letter to extend my heartfelt gratitude to you and your spa staff. I am very picky and choosy when it comes to services regarding my skin. I was initially reluctant to have any kind of therapy on my skin. After hearing a lot of my friends in Beijing sing your praises, I thought of trying you out. Trust me that was the best thing I ever did for my skin. After the essential oil therapy, my skin still feels great and smooth. There have been no breakouts, which has been my greatest fear. You and your staff paid heed to my concerns and did the therapy exactly as I wanted it to be. Apart from the treatment, the overall experience was amazing as everyone was extremely kind and concerned. I am surely going to recommend you to more people who visit Beijing. Keep doing the good work that you are doing.
I hope to see you soon again, next time when I come to your city.
Sincerely,
Audrey Charles
Download Details: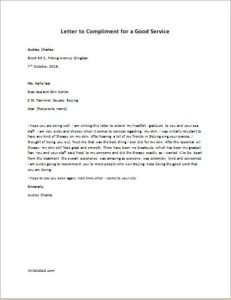 Letter to Compliment a Good Service

Size: 33 KB Word .doc File 2003 & later
Download
Size: 317 KB PDF File
Download
[personal use only: Not for Resale & Distribution]