Apology Letter to Teacher for Misconduct
Students in schools often make mistakes. But sometimes, they do so bad that they have to write an apology letter to ask for forgiveness. Misconducting in class is also one of the worst behaviors of the student. It can be very hard to admit your mistake and to ask for forgiveness but the adults and teachers know very well that the students often lose their control over themselves and misbehave so quite often they forgive their students. The apology letter should be written in such a way that it can completely express your feeling of regret.
The tone of the letter should be formal since you are writing this to your teacher. The letter can be started with few greeting sentences in order to bring ease in the letter. if you don't want the letter to be long, then the greeting letter can be one line only. Do not directly jump into apologizing rather start the letter with being thankful to your teacher for being so dedicated and loving to you. After writing, summarize your mistake.
If you feel you have done something big, you can apology in a larger context. Try to clarify your perspective in clear words. If your teacher has a good grip on understanding words, you will not have to give the reasons for misbehaving rather you can directly apologize for your wrong actions. End the letter with the hope that your teacher will forgive you. Check the letter for the errors.
Apology Letter to Teacher for Misconduct
Dear [Recipient's Name],
I am writing this letter to apologize for everything hurting that I said. I am also ashamed of actions which you did not like. I was in a very stressful situation and I could not know how to get over it. I want to say sorry for that.
I hope that you will forgive me for my every misconduct. I assure you that I will not do this again.
[Your Name]
[Senders Title] -Optional-
Apology letter to teacher for misbehaving
Respected Sir/Ma'am [Name Here],
I feel much regretful for being a notorious student and being mean and disrespectful to you in the class. I feel ashamed of myself for being such a pain for you. I have been annoying you since the last semester but you never scolded me in front of the class to protect my self-respect and overlooked every time. I was being a distraction to the class and disturbance for you as you couldn't concentrate well when I used to create interruption during a lecture. It was making you feel awful for not completing your task due to the fuss created by me.
I apologize for being a big trouble for you during whole this time and I request forgiveness on my behavior as you were always a kind and generous teacher. I would be extremely grateful to you if you forgive me for my blunders. I am privileged to have a teacher like you!
Download Details: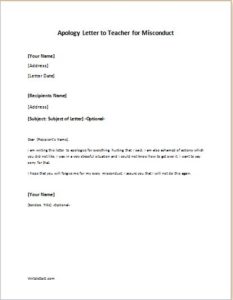 Apology Letter to Teacher for Misconduct
Size: 21 KB Word .doc File 2003 & later
Download
Size: 310 KB PDF File
Download
[personal use only: Not for Resale & Distribution]
---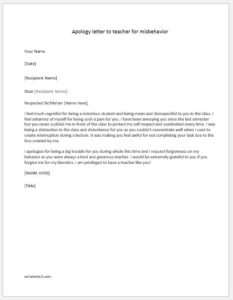 Size: 21 KB Word .doc File 2003 & later
Download