Warning Letter to Employee for Not Wearing PPE
When an employee fails to wear Personal Protective Equipment as safety protection against any misfortune, then the company writes a warning letter to address his misconduct. This letter will warn the employee of the consequences of violating the rules and how it can lead to disciplinary action against him. The supervisor will further express the importance of wearing protective equipment and how sticking to the safety rules of the company could be fruitful against any danger.
Safety and Protection can be accommodated at hand by following some basic rules set forward by the higher authorities. Any organization that works in a non-safe environment must follow some precautionary rules. Among them, wearing PPE is the most important measure for the staff.
Letter 1:
Dear Employee [Name],
We are writing this letter as a formal warning for your negligence in not wearing the Personal Protective Equipment which is described by our company [Company's name]. It is advised to each worker that following the safest decorum and wearing the advised PPE is a necessary task for every employee and failing to do so will result in a heavy penalty.
These PPEs must be worn during all working hours so a clean and safe environment can be maintained. But in your case, all these rules were found violated. You were seen without the basic PPEs several times during working hours. The higher authorities reported that you were notified by your peers and boss, but you did not pay heed to their warnings.
Thus, you are in clear violation of the rules set forth by this company. You are requested to observe the safety precautions since you are working in a hazardous and non-safe environment. This way, both you and your fellow workers can work safely here. Be noted that any further violation of rules can lead to serious consequences.
Yours Sincerely,
[Your Name]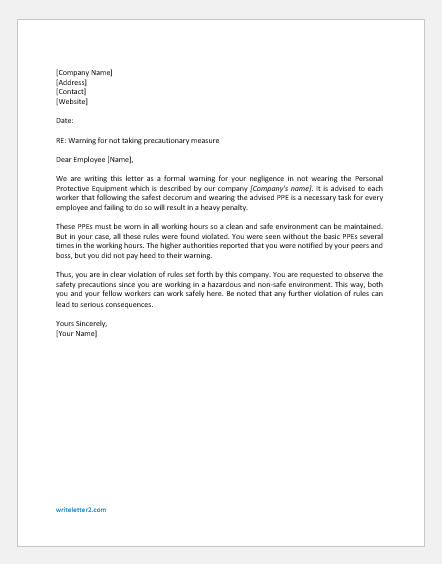 Size: 19 KB Word .doc File
Letter 2:
Dear Employee [Name],
This letter serves as a formal warning letter against your violation of not wearing Personal Protective Equipment (PPE) as per the company's regulations. A notice on basic PPE was generated to everyone on Date: [Mention the date].
This notice was under the title of "Personal Protective Equipment Policy". It clearly stated the rules of safety and precautions to be followed. It abided that every employee must wear protective equipment which is issued by the company so he/she can take reasonable care of his/her health. These protections are for the employee's own good as it ensures security against any hazard, injury, or infection of any kind.
This letter further notifies that if misconduct like this is ever observed by your side, then the authorities will not hold back from generating disciplinary action against you. Hence, you are requested to re-read the company's notice against basic PPEs and adhere to the rules abided by the company. You are also requested to observe the safety precautions since you are working in a hazardous and non-safe environment.
We hope for a positive response from your side.
Yours Sincerely,
[Your Name]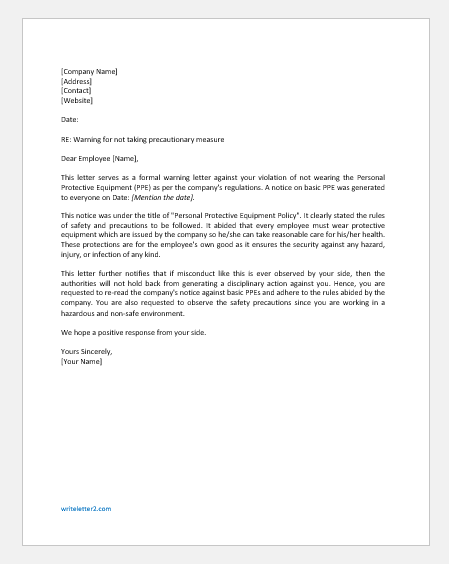 Size: 19 KB Word .doc File