Letter to Request a Personal Loan Payment
Everyone faces some kind of financial crisis at some instances of his life. In such situations, a loan is the most used helping hand. Loan from a bank is taken or a friend is requested to grant financial help via loan. But in this loan story, the interesting point comes when some people forget to repay the loan after taking it. This 'forgetfulness' is not always intentional but in many cases it is. Regardless of whether a person is pretending to have forgotten the loan or has actually forgotten, you have to write a letter to bring their lost memory back. A letter requesting personal loan payment can be written for this purpose. As mentioned earlier that a delay in payment can be due to diverse reasons, it is hence sane to write a letter in a requesting tone, and avoid any humiliating remarks or threats.
Letter to Request a Personal Loan Payment
[Your Name]
[Address]
[Letter Date]
[Recipients Name]
[Address]
[Subject: Subject of Letter] -Optional-
Dear [Recipient's Name],
I hope you and everybody else in your family are good. Dear [enter name], I am writing this letter to you in order to remind you that you had taken a loan of [enter amount] in [enter year/month] due to the financial crisis that you were facing at that time. You told that you'll repay the loan by [enter month-year]. I am glad to hear that you have started your own business and generating good revenues too. For that, all my good wishes are with you. However, I would like to request you the payment of the loan that I owe you. I am sure you're now financially enough stable to repay that. I'll be grateful to you if you do it at your earliest. Many thanks.
Sincerely,
[Your Name]
[Senders Title] -Optional-
Download Details: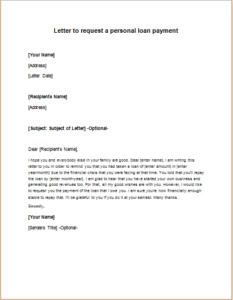 Letter to Request a Personal Loan Payment

Size: 25 KB Word .doc File 2003 & later
Download
Size: 244 KB PDF File
Download
[personal use only: Not for Resale & Distribution]