Letter of Correction of DOB to Bank Manager
Sample -1
My name is Andrews and I want to inform you that I have found a mistake in my bank account information which I recently opened in your branch. I am holding a current account with account number [X]. While I was checking previous months' statements of my account, I found that my date of birth in all the statements has been shown as [date] whereas my actual date of birth is [date].
As per the requirements, I provided you all the required documents with accurate information about my date of birth at the time of account opening but the Customer Service Officer entered the wrong date which is in contrast with the actual one.
Owing to this mistake by your official, I am facing many problems in performing transactions during these days. I run a business that is spread over many cities. In presence of such a discrepancy in my account, I am not able to receive or send money because my identity has become suspicious due to this mistake and I am suffering in the real sense.
Therefore, you are hereby requested to direct your relevant staff to make an amendment to my date of birth as soon as possible so that I would not suffer anymore. You must also ensure that no such issue should occur in the future with any of my transactions.
Although I have provided all the relevant documents at the time of account opening now, for your convenience, I have attached with this letter a certificate which is indicating my actual date of birth. I request you to cooperate with me within the minimum possible time. Thanking you in anticipation.
Yours sincerely.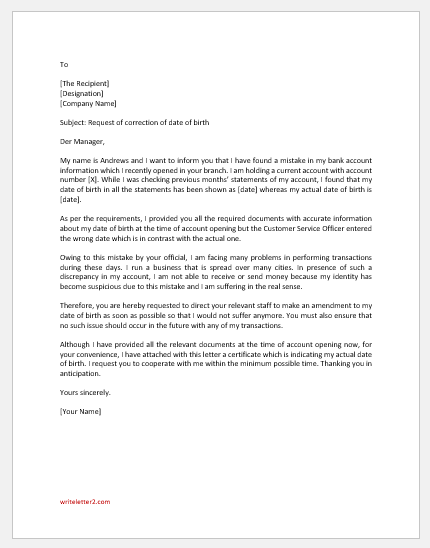 Size: 21 KB Word .doc File 2003 & later
Download
---
Sample -2
Subject: Request of correction of date of birth
Dear Manager,
I am writing you this letter because I want to forward you my formal request through it to correct my date of birth on my account which has been entered wrongly by your staff. On Friday of last week, I opened an account having an account title as [X] and account number [X]. Yesterday, I tried to perform a transaction through online banking of my account. I was worried to know that transaction was being aborted. I tried many times but all in vain.
Later, when I checked the details, I came to know that instead of entering [date] as my date of birth, your staff entered the wrong date in my DOB column, and it is the severe negligence of your relevant.
Despite providing relevant documents, your staff committed this mistake which I think should have not been occurred. Now, if you amend my date of birth in my account information and alter it with the correct date, I will appreciate your act. You must ensure to me in writing that I will not face such an issue in the future. I am waiting for your positive response regarding this problem.
Yours sincerely.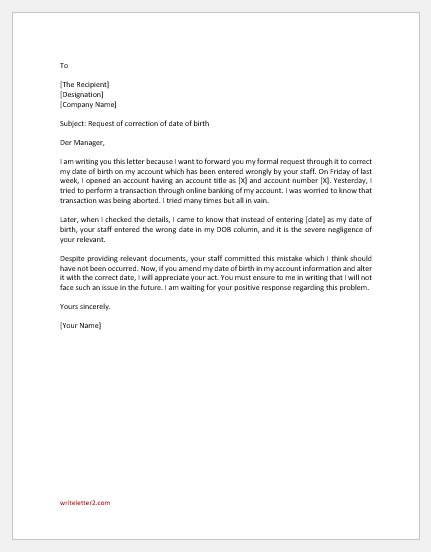 Size: 21 KB Word .doc File 2003 & later
Download