Memo to Staff for Office Spring Cleaning
A memo on Office Spring Cleaning is written by an employee in which he/she informs the rest of the staff members about the upcoming spring-cleaning day. The employee tells the workers to follow some ground rules as a set of instructions to make the spring cleaning productive. The letter must highlight the date and reason for spring cleaning to be observed.
Devising a memo for staff members can be beneficial in imposing the instructions, so a clean and healthy environment can be observed. This can also contribute to an organized working environment.
 Letter 1:
Dear All,
We have been observing the habit of cleanliness from our existence. Our workplace must be organized and in good shape for both the employees and visitors. Any institute or an organization can never flourish without keeping the basic cleanliness policies in hand.
Therefore, as a ground-rule, our company had decided to go for a spring cleaning as observed from the past few years. We shall be looking forward to that day on Date: [mention date]. Following are the instructions formulated for every staff member to follow on that day:
All are requested to organize your workstations by disposing of any unwanted accessory. This may include garbage or unwanted documentation from your desks and drawers.
Get rid of all the unnecessary objects or files which are of no use to the company or to the staff.
Sort your personal drawer and workstations by organizing your essentials. Always keep a storage container with your workbench that may contain your files and personal equipment.
Keep a handy cleaning tool in your drawer to wipe out the dust from your workstations.
Organize your PC desktops. Get rid of unwanted icons and shortcuts. Delete the unused and non-productive files that are of no use to the company.
You all are requested to give a good read to these provided instructions and we hope that this spring cleaning would result in benefits for maintaining an organized environment. Feel free to contact me for any queries.
Yours Sincerely.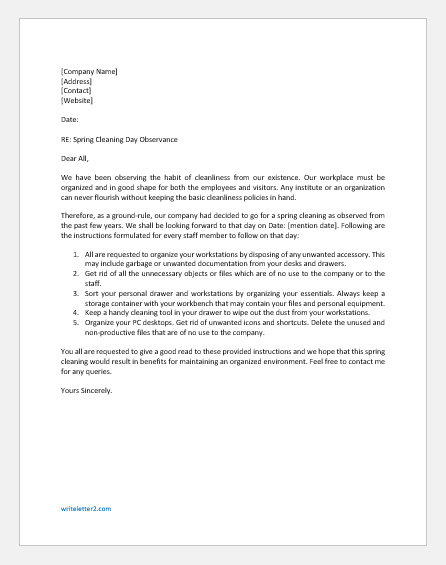 Size: 21 KB Word .doc File 2003 & later
Download
---
Letter 2:
Dear All,
The new year brings new enthusiasm and opportunities to our company. And in order to start with fresh awaited projects, we must first maintain a healthy and cleaned environment to work in. This calls for a Spring-Cleaning Day!
We all know that our employees are out of habit in disposing-off unnecessary items and documentations. We maintain a pile of records for future purposes, even if they are of no use in the coming times. That is why we observe a Spring-Cleaning Day at the beginning of the year. Here are some devised instructions that we followed every year:
Check your file drawers and dispose of the unwanted documentations
Clean your desk and workspace with a sanitized wipe
Don't make your area overly clustered
Make your PC look professionally organized by limiting the icons and shortcuts
Maintain your personal storage containers with files and important documents
I hope these instructions are clear and the product would be positive for our work environment.
Thank You.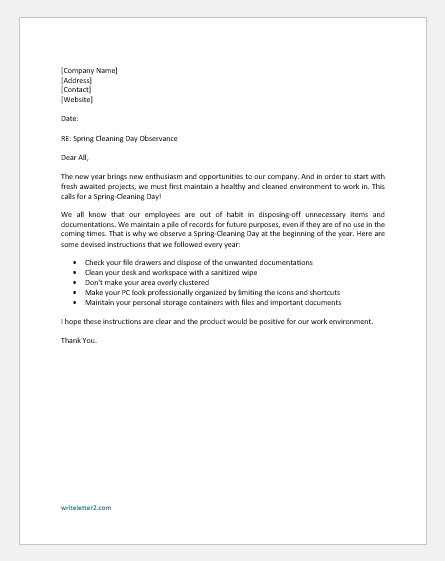 Size: 22 KB Word .doc File 2003 & later
Download