Request Email for Approval of Travel Expenses
An email for the approval of travel expenses is written by an employee of the company to request some basic facilities from his supervisors, such as a business trip and traveling expenses. This email is written to the company so they can support a basic trip for the employee, regardless of its nature, either personal or business.
The employee simply needs to mention the details of the upcoming trip, along with the expenses that need to be incorporated by the company. Explain the reason behind the question of what and why the company should support the cause of this trip.
Letter 1:
Respected Sir,
I am writing this letter to put a formal request on my behalf, so you can approve my travel expenses for the business trip regarding my recent project with IT Corporation Company.
I was assigned with this project under the name of XYZ on Date: 28th April, 20XX, and upon its final stages, I had to visit the headquarters of this company in New York to submit my final draft. As you know that the travel expenses are relatively high and not on my budget. It is a 7-day trip in which I will visit the headquarters and different IT-associated branches of the company.
Since it is a business trip, I would like to request the approval of my travel expenses. The expense involves return air tickets, hotel stays, brunch and dinner expenses, and travel allowances. The rest expenses would be included in my pocket. As per the medical tariffs, I will be using the company's medical insurance policy. I will make sure to return as soon as the work finishes and proceed with my work without any delay.
I will be waiting for your final approval letter so I can start my preparations for the trip. Looking forward to hearing from you soon.
Thank you.
Yours Sincerely.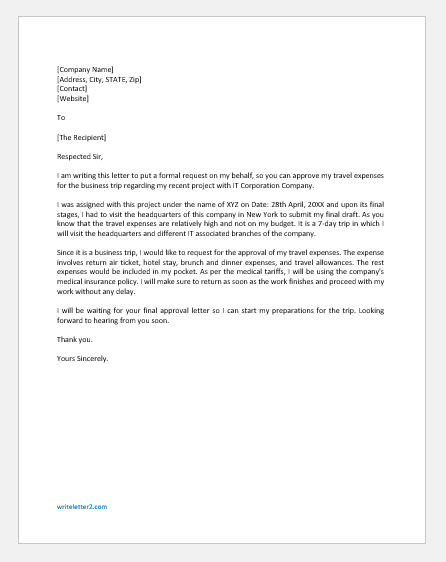 Size: 19 KB Word .doc File 2003 & later
Letter 2:
Respected Sir,
This letter is intended to request you for the travel expenses of my recent upcoming trip to Turkey on 5th September, 20XX.
I am taking this trip for both personal and business reasons so I can attend the workshop on recent trends in IT Firms. This will be beneficial for elevating both my personal and technical skills. You are well aware of my devotion to this company and the hard work I put into my projects to move this company ahead of technology. I have been serving here for 9 years now and I know that you will not disappoint me by disapproving of my request.
Therefore, I request you approve my travel expenses for this trip which include international return air tickets, domestic air tickets, and local traveling expenses. I have attached all the basic routes of local traveling in the country, which cover the ferry, taxi, and minibus expenses.
I will be looking forward to your positive response. Kindly grant this request as soon as possible, so I can prepare for the trip.
Thank you in advance.
Yours Sincerely.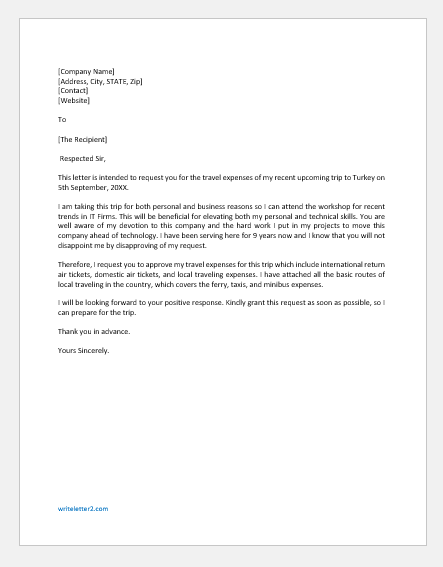 Size: 13 KB Word .doc File 2003 & later