Letter to Landlord Requesting Necessary Repairs
18 February 20XX
Robin Elif
2345 Street
(0000) 2345-666
Dear Mr. Elif,
I hope you are doing well. Currently, I am living in your apartment on rent situated in ABC town. I am living there for the last three years. I would like to bring to your kind attention some things that need to be heard on an urgent basis. I had already brought this matter to your notice about the maintenance of the house but you did not listen to what I said and now the situation is very serious, so I want you to repair the house as soon as possible.
As you know very well that winter season is about to start and the roofs of two rooms leak from the center during rainy days and it is no less than a risk to live under this roof. Moreover, the gas pipe is broken from many points. For temporarily, I have repaired it but, in the future, it can burst out at any time which is very alarming, and it would result in the loss of life as well. So, avoiding any of these happenings I would like you to repair the house as soon as possible. Otherwise, you would be responsible for all the outcomes.
You can also visit the house in your free time and can check the situation. I hope that you will do prompt action for the house repairing but make sure to contact me before your visit to the house so that I will stop my other activities of that day. Hope you will visit soon!
Regards,
Sherman Alexi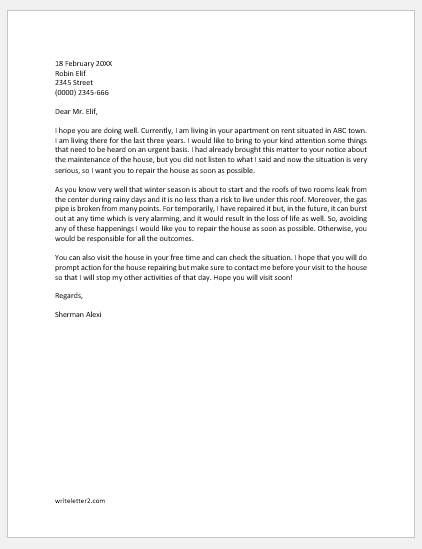 Size: 19 KB Word .doc File 2003 & later
Download
---
Sample Letter -2
18 February 20XX
John Adam
1111Street
(0000) 7777-9999
Dear Mr. Adam,
I am Linda Hutcheon, living in your ABC compartment. I had informed you numerous times about the repair that needs to be done in the house but you did not respond. Not only this I also called you so many times on your landline number but you did not even bother to receive my call. So, I am writing this email to you to attract your attention to the maintenance of the house.
As you know very well that the weather in Hampshire has come to the freezing point now but there is a lack of water supply in the house and due to this, we have to face a lot of problems. Moreover, there is a non-availability of electricity, it comes only for a few hours in the daytime because the wires are broken and it also causes a short-circuit. I have four children and they all are of young age and I do not want them to face any kind of trouble, so I want you to repair the house. I will also send you the details of the things that I have repaired already and I want you to pay me for this.
I hope that you will understand the situation well and will do help for repairing the house. I want you to do this before the start of the coming month and it is already the 18th of the month. You can visit as well to look upon the condition of the house. I would be very thankful to you if you took prompt action regarding this.
Regards,
Linda Hutcheon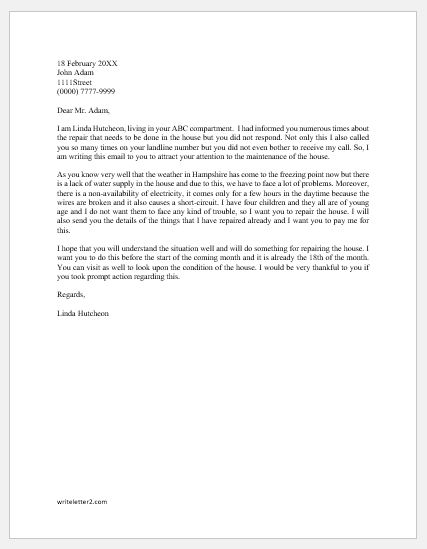 Size: 19 KB Word .doc File 2003 & later
Download