Angry Letter to Boss for Not Working More Than Allocated Hours
Sample Letter -1
Subject: Angry letter to boss for not working more than allocated hours

Dear Sir,
My name is Anderson and I am currently working as Manager in your organization for the last 15 years. I am working here in the company office along with 20 other employees working under me and I am saying on their behalf that we have been loyal to company since very first day of our joining. But now, sorry to say, we have some problems with the way you are treating us nowadays.
When I signed the contract with your company, it was clearly mentioned in the contract letter that an employee will not be enforced to stay for more than his duty hours or in other words, 8 hours a day. If so happens, the employee will be entitled to get the extra pay in lieu of overtime.
Despite knowing this fact very well, you have bound each employee of the office not to leave the office before 7'O clock while our duty timing ends at 5 p.m. sharp. And this is happening for the last two months without paying us extra pay for overtime. Honestly speaking, this is a clear cut breaching of state laws made purely for aggrieved labor.
You are being informed through this letter to change your behavior towards us. We have been loyal to the company and hence expecting the same from your side as well. Instead of being loyal to the employees, many companies as I have noticed, usually put blames on their employees for being unprofessional. This will certainly happen when employees feel so pathetic.
Further, if you do not change your behavior towards us, we shall be forced to consult the labor court of the state, and then we shall meet there. Moreover, you are informed to pay us an extra amount with our salary in lieu of overtime that we have been spending in the office for the last two months. Your cooperation is needed in this regard and you are being given a time frame of seven days in order to get things better.
Yours truly,
[XYZ]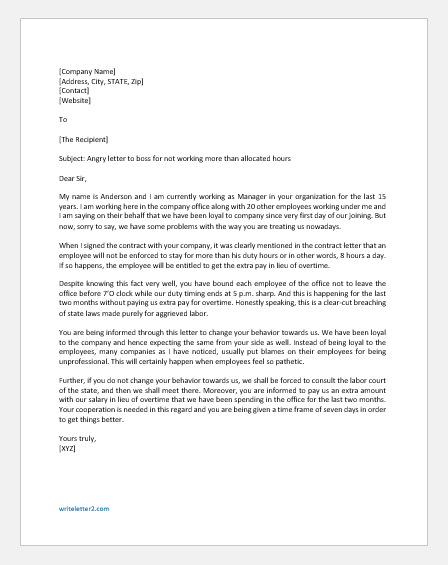 Size: 21 KB Word .doc File 2003 & later
Download
---
Sample Letter -2
Subject: Angry letter to boss for not working more than allocated hours
Dear Sir,
My name is Anderson and I am working as an account's assistant in your company for the last seven years. I am proud to be part of this company and would like to stay here for many upcoming years. Being loyal to the highly esteemed company, I want to draw your attention towards a serious issue which is being faced not only by me but all the employees working in this office.
The very first day, when we joined this office and we were given the appointment letters, this thing was mentioned in the clear and bold words that employees will not be forced to stay in office for more than their allocated hours of duty. But I am worried to say that our office manager, named [name] is not complying with the rules as he has forced us to stay till 6 p.m. while our duty time ends at 4 p.m. which is a clear cut breach of labor laws of the state. He has not put an ear to our voice and that's why we are writing to you.
You will definitely agree with my point that the success of every company is directly related to the success of its employees. It becomes difficult for a company to survive and achieve its goals also when its employees are not happy. Keeping this thing in mind, I am sure you will emphasize establishing a healthy working environment and atmosphere of mutual understanding from both sides. Therefore, we want you to direct our office manager not to force us to stay for extra time. We are sorry but if things won't get better, it becomes indispensable for us to consult with the court.
It is expected that you will solve our problem or otherwise we are likely to see you and the manager in the labor court.
Yours sincerely,
[XYZ]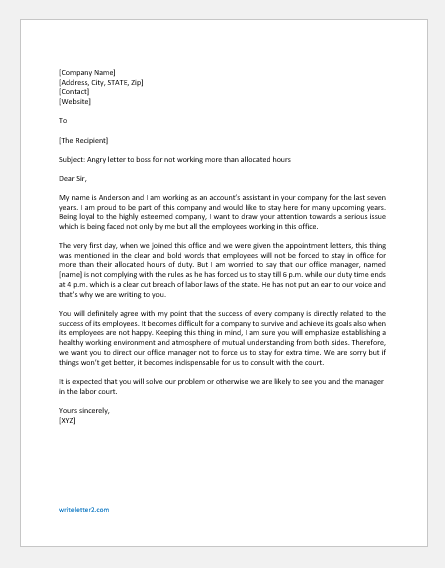 Size: 21 KB Word .doc File 2003 & later
Download