Office Cleanup Day Announcement Letter
An announcement letter for office cleanup day is written by the supervisor of the company, in which he advises all the staff members about the upcoming cleanup day to be held on the given date. He may provide the necessary instructions to be taken on that day and advise the staff members to maintain professionalism and good behavior.
Any institute may observe a cleanup day. And it is a better approach to inform your employees so any unwanted fuss can be eliminated. You can advise them to adhere to the cleaning habits and tell the possible consequences which may lead your office to an undesired outcome.
Letter 1:
Dear Employees,
On behalf of this company [Company's name], we thank you all for providing your best efforts and skills of professionalism to this office. You all have maintained a great deal of working decorum and proficient conduct.
However, this letter marks an important announcement. We are observing an Office Cleanup Day on Date: [Provide cleanup date] and the following are the instructions that need to be observed on that day.
Every staff member will observe a one-hour break at the time of cleanup.
Each and every office, including the personal cubicles and workbenches, would be cleaned. You are requested to windup your essentials 15 minutes earlier, so your desks must be cleaned properly.
You all will be requested to continue your regular work until the cleaning staff approaches your work area. For that time, you are requested to pause your work and continue it after your workstation is cleaned.
Your segregated computer systems need to be shut down at the time of cleanup. This is important for safety purposes.
You may refrain from walking on the wet floors and the areas which are being cleaned up.
We hope that there will be no rush and fuss on the day of cleanup and you all will behave professionally. In case of any other information, you may feel free to reach me in my office.
Yours Sincerely.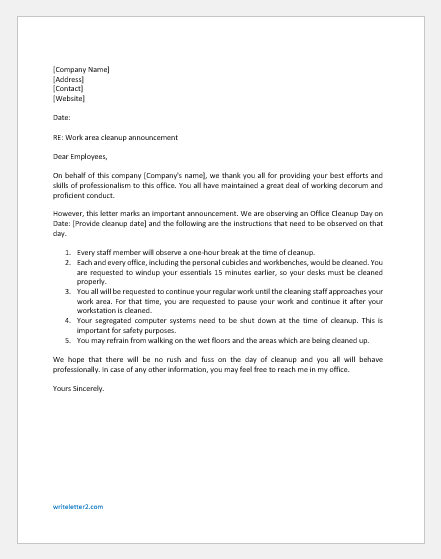 Size: 22 KB Word .doc File 2003 & later
Download
---
Letter 2:
Respected Employees,
This letter is to inform you about the announcement on the upcoming Cleanup Day, which will be observed on Date [provide the date of cleanup] of the coming week. This cleanup day is being held in the product of observing your untidy and unclean habits in the office environment.
Our company has always been keen on maintaining a clean and healthy environment for the employees. We make sure that the office is cleaned on a regular basis, but a thorough cleaning process is observed after each month. Thus, on the cleanup day, each and every work area, restrooms, offices, and other places would be cleaned thoroughly.
We have been monitoring over the staff members and to our surprise, no one is paying attention to their work hygiene. Thus, in order to reflect a well-organized and tidy work environment, we have hired an external cleaning staff. You all are requested to cooperate with them and show your best professional code of conduct.
Your Sincerely.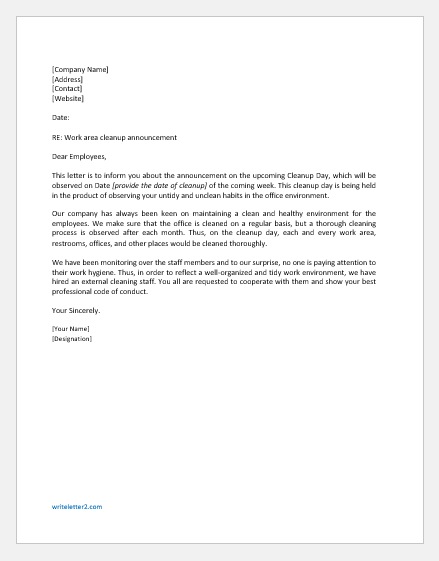 Size: 20 KB Word .doc File 2003 & later
Download