Employment Verification Letter
What is an employment verification letter?
An employment verification letter is a formal response by an employer specifying that the employee works for the company. The important sections of this letter are the Employee's name, date of joining, employee code, company's address, and contact number.
Where a verification letter can be used
Verification letter can be used in various situation. Some of the most common conditions are given below:
Purchasing a new home
If you plan to buy a new house with the help of a bank, the bank will ask you for an employment verification letter. This letter will help the bank to identify your resources for repayment.  
Applying for a new job
Some employer prefers your employment verification letter to confirm your work experience. In case, you do not have any experience letter of the previous organization you have worked in, an employment verification letter can serve as proof of your employment. Most of the time, when you are currently working in any organization and also looking for another job, this letter will help as a replacement for an experience letter.    
Renting a home or apartment
The property manager may require your employment verification letter, to complete the legal process and maintain goodwill with your landowners.
Applying for a credit card
Confirmation of your current employment and income can be used to apply for a credit card that can help you if you run short of money.
How to write an employment verification letter
Following are some steps to write an employment verification letter:
Use company's letterhead
A letterhead is a semi-printed paper that includes information about your organization including the name, address, contact number, email, website, and logo. Use the letterhead to write the verification letter to make it official and usable for the employee.
Name and address of company
It is recommended to use letterhead to write this letter. However, if letterhead is not available, you can also mention the name and address of your company separately.
Employee's name and designation
Do not forget to mention the name of the employee and the employee code. It will help verify the case.
Date of joining of the employee
Do mention the date of joining of the employee, it will authenticate the work experience and duration of work period.
Be precise and to the point
Avoid extra details that can make it look like an irrelevant piece of writing. Always remember, the employment verification letter is very short. Only give the details asked for. Do not go into explanatory discussion.
Sample Letter
7th June 20XX
From:
Address:
To:
Address:
Subject: Employment Verification Letter
To whom it may concern,
I am writing this letter to verify that MR XYZ, Employee code [X] is currently working as a Lecturer in our organization. He joined us in September 20XX and working with us till today.
If you have any questions, please do not hesitate to contact us at [X] or email at [Email].
Have a good day.
Regards,
Name of the Sender
Designation 
Signatures    
Organization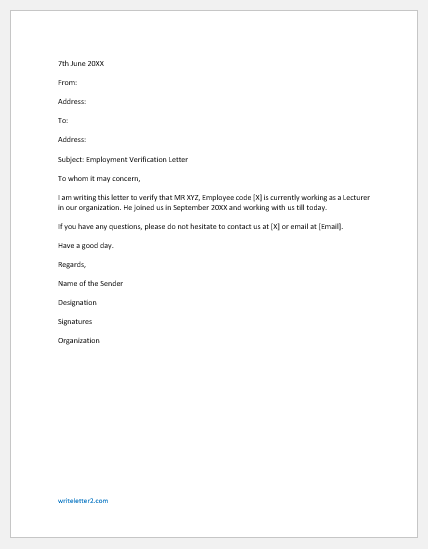 Size: 20 KB Word .doc File 2003 & later
Download