Letter to Cancel Service Contract Due to Poor Workmanship
When service providers hire employees, they make sure their employees are potential and competent enough to satisfy the need of the customer. While some contracts are canceled because people no more need them or they find a better service provider, many contracts are canceled merely due to the poor workmanship provided by the contractor or the service provider. Since one has to pay for the work that is being done for him, he is concerned about the quality of the work. A cancellation letter can be written to the contractor if one is not satisfied with the services being provided. It is, however, important to keep the tone ethical and to give the reason of why would you want to cancel the contract so that in case the higher authorities are unaware of the type of work their agents are doing, they may look into the matter to fix the problems.
Letter to Cancel Service Contract Due to Poor Workmanship
[Your Name]
[Address]
[Letter Date]
[Recipient's Name]
[Address]
[Subject: Subject of Letter] -Optional-
Dear [Recipient's name]
I'm sorry but my hopes are shattered to see the quality of work provided by the [Hook & Shook] plumbers. Two of your employees are working at my house to fix the sanitation issues. Let me tell you while they completed the work on the ground floor and moved to the first floor the water again started leaking from the pipes of the ground floor. They are working and the issues have started coming out again, what do I expect for the coming weeks? In fact, more leakage has started than it was before and if this continues, I fear I'll be floating in a flood soon. With all these reasons, I find no solution but to cancel my contract with you. Kindly call your men back since I have to look for another service to resume the work. Thanks!
Sincerely,
[Your Name]
[Your Title] -Optional-
Download Details: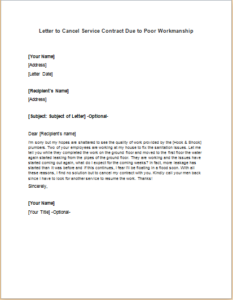 Letter to Cancel Service Contract Due to Poor Workmanship
Size: 25 KB Word .doc File 2003 & later
Download
Size: 161 KB PDF File
Download
[personal use only: Not for Resale & Distribution]