Apology Letter for Mistake Occurred in an Account
Some mistakes are very serious especially when they are related to business and financial dealings. One such sphere where mistakes can turn into grave mistakes is managing the accounts. A mistake made in accounts can bring you a loss of trust from your clients. It is, therefore, important to follow an apology letter if such an incident occurs. This gives your client an impression that you can be trusted and he readily accepts your apology.
An apology letter should also contain an offer of compensation if necessary, in order to compensate for the mistake that occurred in an account.  These ups and downs in a client-server relationship keep coming but it is on the server how he manages to tackle them.
LETTER
Dear [Recipient's Name],
I am writing this letter to you in order to inform you that the notification that you had received lately regarding your account details was a result of a mistake that occurred. Our employee had mistakenly [enter what happened] for which we are responsible and duly accept our responsibility. I hereby humbly apologize you and want you to believe that this was only unintentional. You are our valued customer and we want to serve you with the best of our services. I also assure you that you will not have to face this issue again in future. For further details, our customer service provider will contact you soon. Thank you!
Sincerely,
[Your Name]
[Senders Title] -Optional-
Download Details: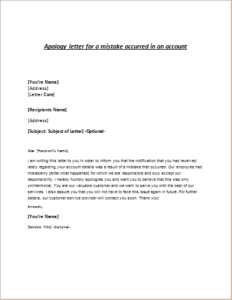 Apology Letter for Mistake Occurred in an Account
Size: 28 KB Word .doc File 2003 & later
Download
Size: 284 KB PDF File
Download
[personal use only: Not for Resale & Distribution]