Apology Letter for Mistake Occurred in an Account
Some mistakes are very serious especially when they are related to business and financial dealings. One such sphere where mistakes can turn into grave mistakes is managing the accounts. A mistake made in accounts can bring you a loss of trust from your clients. It is, therefore, important to follow an apology letter if such an incident occurs. This gives your client an impression that you can be trusted and he readily accepts your apology.
An apology letter should also contain an offer of compensation, if necessary, in order to compensate for the mistake that occurred in an account. These ups and downs in a client-server relationship keep coming but it is on the server how he manages to tackle them.
Letter Samples
Dear [Recipient's Name],
I am writing this letter to you in order to inform you that the notification that you had received lately regarding your account details was a result of a mistake that occurred. Our employee had mistakenly [enter what happened] for which we are responsible and duly accept our responsibility. I hereby humbly apologize you and want you to believe that this was only unintentional. You are our valued customer and we want to serve you with the best of our services. I also assure you that you will not have to face this issue again in future. For further details, our customer service provider will contact you soon. Thank you!
Sincerely
2-
Subject: Apology for mistake occurred in [X]
Dear Andrew,
Please accept our apology for the misunderstanding which led to a serious mistake with your account on 25th June. We can understand your frustration and the level of inconvenience that might be caused because of this mistake.
We have never anticipated such a mistake but on 25th June, our accountant issued a check of 500 US$ from your saving account as per your instructions. The amount he forwarded to you was correct. However, the amount which was posted to your account was 50 US$ and it was incorrect. Andrew, our department took prompt action upon your complaint. When your account was examined, it was revealed that you received 450US$ less than the actual amount due to erroneous entry. We acted as swiftly as we could, but our central system stopped responding due to the weekend. Consequently, the remaining amount could not be posted to your account within time.
Today, we have canceled that wrong entry and posted the correct amount to your account. However, you waited for 2 more days to receive your amount and we again apologize for our mistake. I hope this mistake is not going to pollute our strong business relations. We wish to continue with you the same pleasant business relations as we had in the past. We have reprimanded our accountant for his mistake, and you are hereby assured that such an action would not happen in the future.
Your inconvenience is seriously regretted.
Sincerely,
John Miller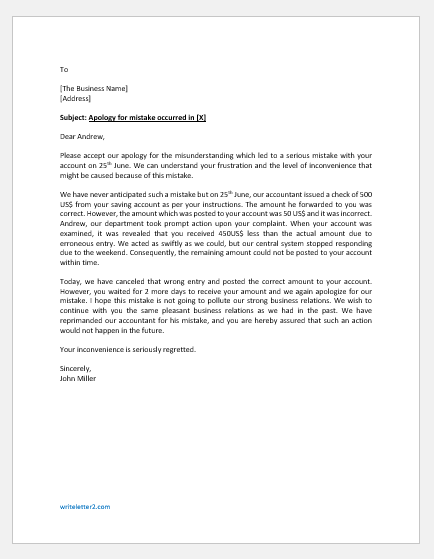 Size: 21 KB Word .doc File 2003 & later
Download
---
3-
Subject: Apology for error in [X]
Dear Jonathan,
We are extremely regretful for the mistake that occurred in your account. We can understand this mistake has caused a huge financial loss to you. However, we were not intended to create such an embarrassing situation for you. This letter will help us find a possible solution to the recent problem.
Although we took swift action on your complaint due to the weekend it took us two days to find out what exactly happened on [date].
Mr. Johnson has recently been appointed in this company as an assistant accounts officer. He was working with your account. Unfortunately, he credited your business payment to an account having the same name as yours. We acknowledge what happened was wrong and the company takes full responsibility for it. Meanwhile, we have taken preventive measures to eliminate the chances of such errors in the future.
Dear, we want to let you know that you are our valued customer and we are committed to providing you with the best of our services. We might have lost our trust after this mistake. However, we are working on a comprehensive plan and taking the necessary steps to regain your confidence. Our company has purchased the latest tools and software for all departments and improving accounts handling procedures.
Today, that error has been rectified and the correct amount has also been transferred to your account. But I know this is not enough to take away that inconvenience you have faced during these days. Once again, we apologize for our huge mistake. We are confident such a mistake will not occur again.
Sincerely,
John Miller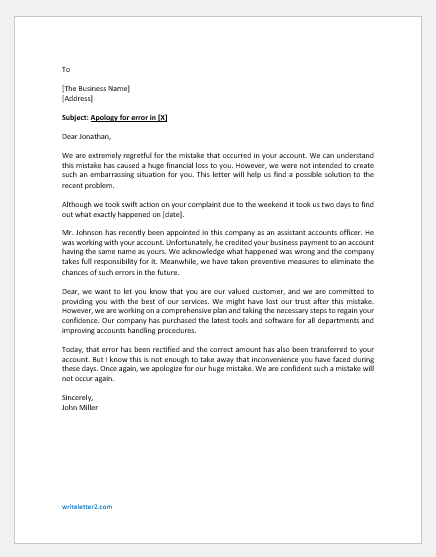 Size: 21 KB Word .doc File 2003 & later
Download