Query Letter to Employee for Misconduct
1-
This letter is meant to charter the factors based on your misconduct on 31st January and to give you an official warning. It also meant to let you know the repercussions of such unethical conduct further in the company. Mr. James has provided me a detailed report of the misconduct and your actions have clearly violated the company's rules and regulations. This wrongdoing and lawlessness summons punitive exertions to be taken against you. Therefore, this letter is an official warning as has been issued by the company.
If in the future, you seem to be involved in such activities then you might be terminated or displaced. In your employee's portfolio, a copy of the same letter has been placed. You are asked now to provide an answer to this letter.
2-
You have been caught displaying misconduct at the workplace on 22nd Feb. It has been reported that you were involved in starting a political discussion that resulted in an acute fight between the employees. You intentionally ignited the talk and later you were caught laughing standing there at the corner.
As per the company's policies, any involvement of the employee in such kinds of activities will lead to displacement and detention from the company. You have violated the policies openly and for this purpose, this warning letter has been sent to you. Kindly make sure in the future to not indulge yourself in a political talk during office hours otherwise we will take strict action against you. If you are facing any problem concerning work then you can contact Mr. Williams, the supervisor of the executive department.
3-
This matter is of acute concern that I have heard of your involvement in disrupting the workplace's environment. The same complaints have been also reported against you by your colleagues in the past but you were giving verbal warning each time. This letter serves as a serious warning issued against you. You behaved unprofessionally with Mr. Ralph, co-supervisor of the organization.
He was on his regular visit on 13th March and upon asking your project details you started talking rudely with him and abused him. I was not expecting the same from you. It clearly indicates that the counseling given to you has not affected you at all.
Now I am warning you for the last time to bring improvement in yourself and behave professionally. If I receive any further report of misconduct against you then I will forward this matter to higher authorities and without given any warning you will be terminated permanently. I hope that you will rectify your fallibilities and behave ethically hereafter.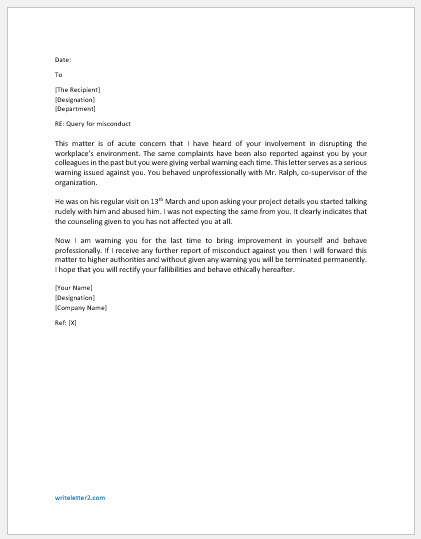 Size: 12 KB Word .doc File 2003 & later
Download
---
4-
Hope you have been doing well. I am Williams Morrison, the manager of ABC Organization in which you are working as an employee. This matter has been brought to my notice that you were involved in malpractice with grade four employees. You also remained unmindful regarding the duties that were assigned to you. It clearly designates your irresponsibility and inattention. The administration asks you to write reasons for your misconduct. In case of not giving an explanation, authoritarian exertions will be taken and it will definitely put an impact on your job.
5-
The management has reported this matter to me that yesterday at 1:30 pm you were asked to visit the production unit by Mr. Steward. Instead of coming up to his orders you denied his instructions and gave way to squabble and clamored at him. You yourself have admitted this misbehavior. Drastic and stern action could be taken against you for delinquency but your previous employee's record the management has agreed upon to give you a second chance to ameliorate you.
I hope that in the future you will listen to your manager's instructions and will not repeat this act again. Kindly take this warning seriously otherwise stern actions will be implemented against you.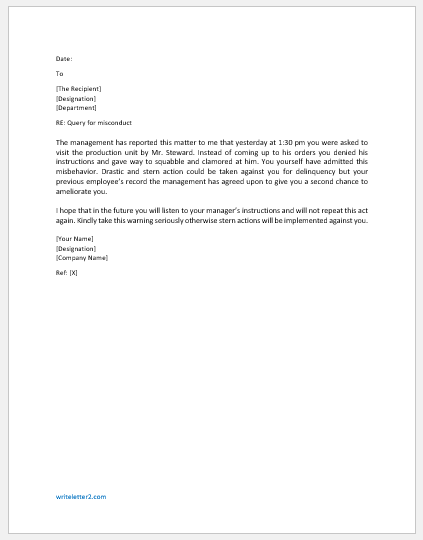 Size: 21 KB Word .doc File 2003 & later
Download