Price Increase Announcement Letter to Client
Prices of goods, products, and service don't always remain the same. They keep moving up and down. When companies have to raise prices due to some reason, they inform the clients about the hike in prices. Price increase announcement letters are written for this purpose. It helps avoid any conflict between the customers and the clients at the time of sale or deal since the prices are already properly declared. This is also among business norms and all flourished businesses properly announce their rise in prices to their current or potential customers.
Price Increase Announcement Letter to Client
[You're Name]
[Address]
[Letter Date]
[Recipients Name]
[Address]
[Subject: Subject of Letter] -Optional-
Dear [Recipient's Name],
I am writing to you on behalf of our company [company's name]. This letter is meant to inform you about the recent rise in prices of our products/services. We have always tried to provide quality products/services in affordable rates for our customers but since the market values of goods and raw products affect our work too, we are hereby bound to increase our prices in order to keep serving you with the best of our services. Please note that our prices have increased by —% and all charges onwards will be made according to these new rates.
We hope to continue having you as our valuable client/customer. For further queries please contact at our office numbers in office hours. Thank you!
Sincerely,
[You're Name]
[Senders Title] -Optional-
Download Details: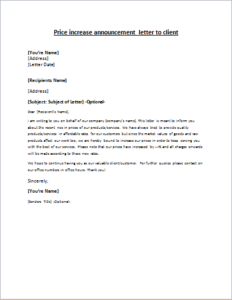 Price Increase Announcement Letter to Client

Size: 26 KB Word .doc File 2003 & later
Download
Size: 204 KB PDF File
Download
[personal use only: Not for Resale & Distribution]