Response Letter to Poor Performance at Work
Sample -1
Re. Acknowledging and Responding to the Bad Performance at Work w.r.t Performance Review March-April 20XX
Dear Sir, I am writing this letter regarding the recent review report by the Department of Human Resources mentioning the condemnable and recommendable parts of the employees' performance. I am drafting this letter to acknowledge and respond to the condemnable reviews on my performance. First, I am ashamed of the inconvenience brought about by my carelessness and unsatisfactory performance. This letter is an apologetic response while explaining my negligent and irresponsible performance.
I believe that there are certain obligations of a workplace where an ascertained behavior and an accorded code of conduct have to be kept in view. I also understand that I have disappointed you by not coming up to your expectations. As per my designation, I completely realize the kind of vigilance and proficiency demanded and needed for project management and development. I am extremely sorry for the trouble and disruption caused by my performance.
I remained sick and a little depressed in the past few weeks and therefore I could not do much work to meet the assigned deadlines. Not meeting deadlines cost a lot in the loss of project development and loss of clientage for further implementation of the project. Meanwhile, my grandmother died, and I remained busy and mentally embedded in her customary funeral rituals. I have been extremely disturbed and distressed by the chronic illness and death of my grandmother.
Having all this said, I still believe that no other explanation is enough for the loss and trouble caused by my negligence and inattention. I want to make it clear that it was not because of ineptitude or lack of skills rather it was negligence caused by the dark circumstances led by dismal and anxiety. I have been visiting and consulting my physician who is looking into my physical and mental health. I am much better now and assure you that this kind of attitude would never repeat. Being lucky enough to get a chance from you, I promise to never let you down again and always try harder to keep it up to your expectation and desired results.
I shall be grateful if you review and consider my explanation and feel satisfied with my future demeanor. Please let me know about your response by writing to me at [X]. Thanking you in anticipation.
Regards
Sam Rodger
Project Manager
Department of Planning and Development
I-SEPS Group of Organizations
89-D Denim Street, Caroline Road
San Francisco, CA, USA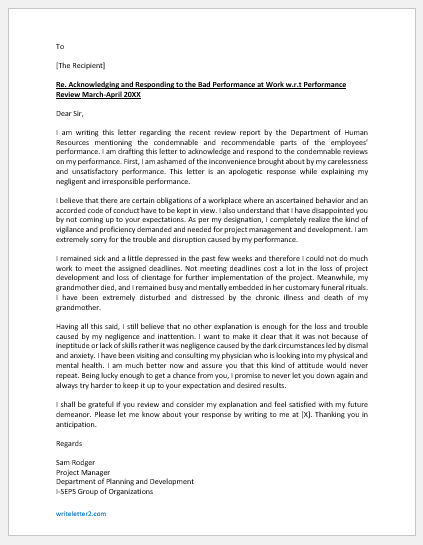 Size: 24 KB Word .doc File 2003 & later
Download
---
Sample -2
Re. Response and Explanation of the Poor Performance Pointed out by the Review Committee in the Monthly Review of Employees March-April 20XX
Dear Sir,
I am Richard Lester from the Department of Auditing and Accounts. I have been working here as an Assistant Finance Manager since 2015. I have always enjoyed working here because of the professional and optimistic ambiance. My supervisor has also been satisfied and happy with my work. I have always been appreciated by my immediate supervisors and admired for the quality of work, my competent research analysis, and my hardworking attitude in the office.
I had been chronically sick due to backache. This is the same issue due to which I applied for work from home six months before as it was not possible to come to the office and sit for longer hours. The same issue has been started again and I have been suffering from this striking pain. The doctors, after long term examination, told me that one of the lower disks of my back has been slipped and dislocated. That disk slip has caused a lot of pain and physical crunch.
That is why I have been inattentive and negligent at work. I am getting my physiotherapy and other recommended treatment. I am extremely sorry for the trouble and inconvenience caused due to my carelessness. I understand the gravity of the issue caused due to my inattentive demeanor. I assure you that this will not repeat as I will be careful and vigilant of my behavior to keep up with your expectations. I am grateful to you for providing me another chance to improve my behavior and get focused at work.
Regards
 Richard Lester
Assistant Finance Manager
Department of Auditing and Accounts
34-E, Sector 7-F, Commercial Stocks, San Diego
CA, USA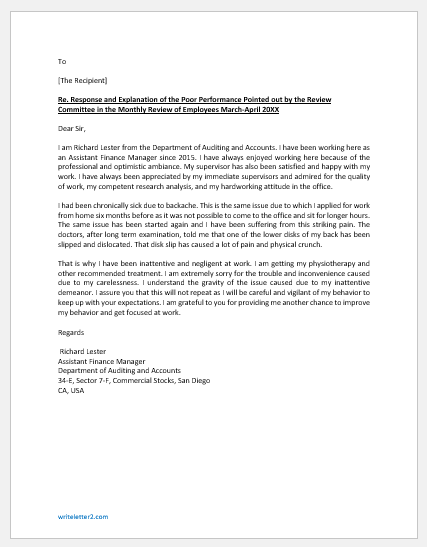 Size: 23 KB Word .doc File 2003 & later
Download