Barking Dog Complaint Letter
Dogs are considered as the most faithful and cultured pets. People mostly keep them for the safety. Some people keep them as pets. Apart from this, wild dogs and street dogs are considered much dangerous. If pet dogs are trained well, they are found much obedient, faithful and affiliated to their owners. There are a variety of dog species that exist all over the world. Among them, there are some specific species that can be kept as a pet. Nowadays, keeping pet dogs is becoming much common. As it is becoming common, a lot of problems are also arising. For example, noise generated due to the barking of dogs is annoying the neighborhood.
It is the right of the neighbor to lead a peaceful life without any disturbance. On the other hand, it is also a general courtesy from the owner of the pet to take care of the neighbor for any inconvenience caused by the pet and to keep aware of the neighbor's rights. If the neighbor is still facing the subject problems then he should complain it to the owner and subsequently, to a higher authority to resolve the issue.
Barking Dog Complaint Letter
Robert Wordsworth
Ocean Apartments
Block12C, Sea View Avenue, Las Vegas.
October 7, 2017
Mr. Ben Alexander
Ocean Apartments.
Block 12C, Sea View Avenue, Las Vegas.
Dear [Recipients Name],
I hope you are fine and enjoying your health. I am writing a complaint letter to you because of the barking of your pet dog during the night. I have already complaint you verbally last week but the problem is still unresolved. I along with my family cannot sleep in any noise and my children get afraid of the barking noises of dogs. If the situation remains the same, then I must inform the police to act against it. But it is a general courtesy to inform you and warn you before taking any step that can put you in a trouble. Therefore, it is required to take action to train your dog or put him in a sound proof cage at night to avoid any inconvenience.
Looking forward to your requisite actions.
Sincerely,
Robert Wordsworth
Download Details: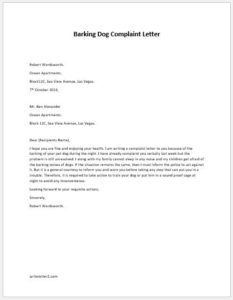 Barking Dog Complaint Letter

Size: 35 KB Word .doc File 2003 & later
Download
Mobile Version: Polaris Office & Google Docs
Size: 21 KB File
Download
[personal use only: Not for Resale & Distribution]