Thank You Letter to School Principal
A school principal is someone who runs the entire institution and takes the burden of hundreds of students and the faculty on his/her own shoulders. They are the people of high value and honorable character. They should be appreciated for their hard work often.
This letter is written as a thank you note to the principal of a school by the parents for his/her exemplary services for the institution. The letter is written in a very soft tone with warm gestures of acknowledgment. Such kinds of letters are a great encouragement for the principals. The letter body is given below.
Letter -1
Respected Sir/Madam, it was the time of my life being at your school and now when leaving I want to be grateful for all the efforts you put in for making this school even greater. I have learned many things from you as a student and a lot of wisdom and experience through your aptitude of management, teaching, and leadership as a principal.
Sir/Madam, I thank you for being most kind and affectionate yet a person with the most pragmatic approach.
Thank you for being our principal and teaching us a lot of things and skill besides mere theoretical studies. Your concern towards and intelligibility is something rare to our society. You dealt with studies in an empirical manner by experiments and observations which made students love studies rather than running from it.
I again want to pay my gratitude for being in our lives and for making us a better human being and providing us with the pursuit of peace for one and all.
Thank you!
Letter -2
I hope this letter finds you in good health. My name is Mrs. Robert Geller. My son has been a student of your prestigious school for five years. I am writing this letter to show my sincere appreciation to you for being the most honorable and superb principal. You are such an inspiration to other women and my kids take you as a role model. The way you have been running this institution is impressively good and I must say it is because of your efforts and enthusiasm that this school is progressing by leaps and bounds.
I am sure most of the parents feel the same way and they too consider you as the best principal of this school. My words will fall short if I start counting your great abilities. I once again thank you for your wise leadership. I hope that you will continue to perform your services for this school and I wish you all the very best.
Thank you very much.
Yours Sincerely,
[Your Name]
Download Details: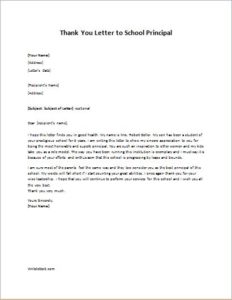 Thank You Letter to School Principal
Size: 30 KB Word .doc File 2003 & later
Download
Size: 201 KB PDF File
Download
[personal use only: Not for Resale & Distribution]