New Store Opening Announcement Letter
1-
Dear Members! We are delighted to announce the opening of our new stationery store named 'Billion Books' on 15th Street, Plot A, West England. The grand opening will be held on 10th October 20XX, and we invite you all to join us for the event.
This store is being opened to cater for the demand for a stationery store in the area as the nearest one is about 8 miles away. We hope that an opening of a stationery store in this vicinity will help the parents and children buy their school supplies without traveling far.
We have books and stationery of all kinds. A variety of paints, markers, colors and spray paints are available at our store for reasonable prices. In addition, syllabus books from standard 1 up to A levels are also available for Cambridge and Edexcel board.
We also have gift items at our store in addition to stationery items. Moreover, our prices are about five percent lower than the other stores without compromising on the quality of the products.
We are also offering flat twenty-five percent off on all products on our grand opening so make sure to check us out and avail yourself of the amazing offers and discounts. The first thirty customers will also get a free goodie bag from us.
We request you to pay us a visit and support our business. Feel free to spread the word too. Thank you very much for showing interest in our store.
Yours sincerely,
Mr. Chris John
Owner Billion Books.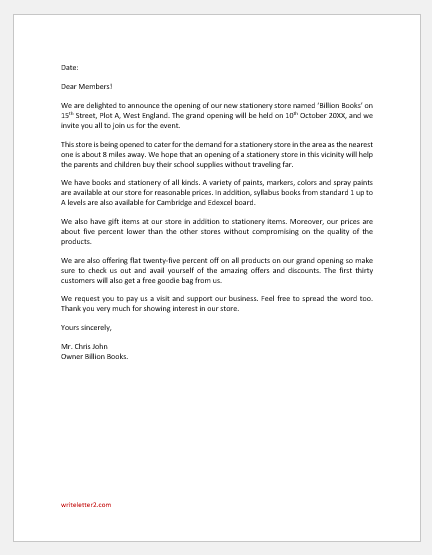 Size: 18 KB Word .doc File 2003 & later
Download
---
2-
Dear Ms. Anna Marie,
We are thrilled to announce the opening of our very own jewelry store 'Kiara diamonds' on 7th October. The store is located at a beautiful location in the heart of London on West Street. We have arranged a grand opening event and invited Ms. Cheryl Watson as chief guest who is an esteemed jeweler herself. We would like to invite you to the event as well, the invitation card of which is attached therein.
We offer diamond jewelry with good clarity and fine cuts along with other precious stone jewels such as ruby, emeralds, etc. We have a qualified geologist on board who makes sure that our stones and diamonds have excellent clarity and that we provide only the best quality jewels to our esteemed customers.
We also offer customized jewelry that can be made on order by a prior meeting. We have a huge variety of jewelry for weddings, parties, and daily wear. We also deal in an impression of diamonds which will be in a much affordable range as compared to real gems. The satisfaction of our customers is our utmost priority which is why we will also have a helpline where you can call from 10 am till 10 pm for any questions you might have.
As an introductory offer, we are providing free consultation at our store and a ten percent discount for the first three days. Also, the first five customers will get a discount coupon which they can avail themselves of at a later time too.
Please feel free to spread the word and do pay us a visit at our grand opening.
Regards,
Kiara Diamonds.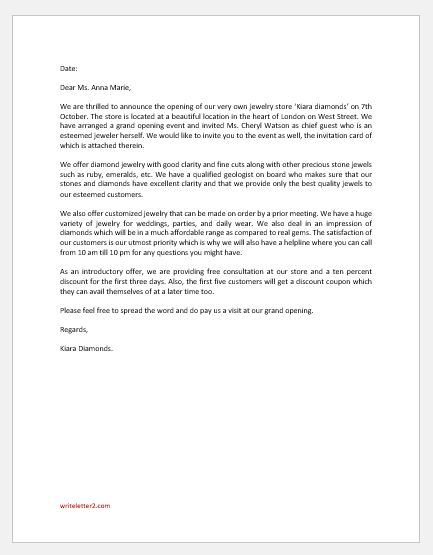 Size: 21 KB Word .doc File 2003 & later
Download