Letter to Call Monthly Meeting to Review Business Strategies
Every company has some business strategies based on which the company progresses. It is very important for the staff members and all the stakeholders of the company to keep the check on all the strategies applied by them to see whether they are going well or not. A business strategy has a direct impact on the success or the failure of the company because of which, several meetings are conducted each month or year to review the business strategies.
In order to call everyone on the meeting, a letter is written. The purpose of the letter is to make the reader present in the meeting on time and let him know about the agenda of the meeting. With the help of agenda, the reader can prepare several points which he wants to be discussed in the meeting. You can also add the subject in the letter to seek the attention of the reader.
The tone of the letter should be positive and it should include all the information required by the reader such as time, date, the location where the meeting will be conducted. Also, tell the reader if you are planning to change the business strategies so that they can prepare some suggestions accordingly. Tell the reader that it is important for him to attend the meeting and explain what you expect from the reader in the meeting. End the meeting with the positive note and check the letter for all the grammatical mistakes.
LETTER
Dear [Recipient's Name],
As you know we set up some business strategies at the start of this year and since then we had no meeting to review all those strategies. There are some changings which are required to be made in the strategies which will be made after a joint meeting. We are conducting a meeting this Thursday at 12 p.m. in which we will be discussing some new strategies for the company as well as review the existing one.
[Your Name]
[Senders Title] -Optional-
Download Details: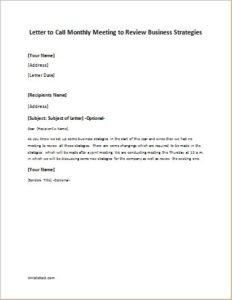 Letter to Call Monthly Meeting to Review Business Strategies

Size: 21 KB Word .doc File 2003 & later
Download
Size: 319 KB PDF File
Download
[personal use only: Not for Resale & Distribution]