Letter to Request Assistance from Someone in another Firm
This letter is written when you are going to ask your colleague for assistance. The letters which you write to ask for someone's assistance are usually written in a formal tone. This letter should be written in the form of an open paragraph giving an introduction about the writer of the letter and his purpose of writing the letter. Also, state your designation in the firm where you are working. If someone is working in another firm and you also want to get a job in that firm or some other kind of support, you can write the letter to that person to ask for the assistance.
The other paragraph of the letter should be based on the details about the assistance which you want to get from the reader and it should also be explained in the letter that why you are in need to get that assistance. There should be another paragraph in the letter that should conclude what you have discussed in the letter so far. It should be written in simple English so that the reader can understand your purpose of writing the letter. It is very important to write this letter in a professional way. The letter should be written in such a way that it employs an appeal to the reader so that he can be persuaded to provide the reader with the assistance.
The letter can be written to someone working with you at the same place or someone who is working somewhere else. It is important to introduce yourself if you know that the reader does not know you. It is recommended you provide the introduction before you move to the main point. The specifics of the assistance should be provided clearly in the letter. The letter should not be too long. For keeping it brief, you can delete all the unnecessary details. The tone of the letter should be polite and appealing.
End the letter by asking the letter to respond your request or to help you. It should also be told that you will be thankful to the reader for his assistance and at the very end of the letter, use the positive note.
Letter to Request Assistance from Someone in another Firm
Benjamin Franklin
[Address]
[Letter Date]
[Recipients Name]
[Address]
[Subject: Subject of Letter] -Optional-
Dear [Recipient's Name],
I would like to express my gratitude towards all your support that you have provided me in the past. We are right now facing a case in the company where an employee must undergo some disciplinary actions. The nature of the case has made it very difficult for us to handle it alone. I would like to request you to come and have a consultation session with us in coming week. Your advice will be very helpful for us. We will appreciate you and your support. Thank you so much!
Sincerely,
Benjamin Franklin
[Senders Title] -Optional-
Download Details: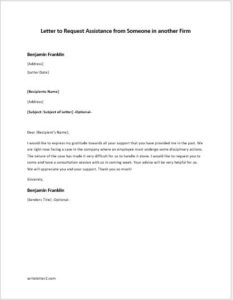 Letter to Request Assistance from Someone in another Firm

Size: 24 KB Word .doc File 2003 & later
Download
Size: 320 KB PDF File
Download
[personal use only: Not for Resale & Distribution]