Excuse Letter for Absence due to Birthday Celebrations
#1
Re. Excuse for Absence due to Birthday Celebration Dated [DATE]
Dear Sir, this letter pens down the request to grant me one day's leave from work on account of a birthday celebration of mine. My birthday is going to be on [DATE], thus, I need a day off from work to celebrate my birthday.
My family and I plan to go to a picnic on the day and throw a night party on [DATE]. As this is going to be a family event, I am sad that I will not be able to invite any of my office colleagues or friends. To not forget my respected fellows and friends, I plan to have lunch on [DATE] for all my colleagues.
As you must understand that birthdays are one of the most special days of the year for a person, so it is for me. Please, accept my request for leave. I have to be on leave as it is almost unavoidable for me. Moreover, I have told Richard Jameson, the APA of the IT Wing to take care of anything related to the office managerial tasks. He will also be making important calls on the day for my replacement.
I hope you understand the necessity of the off day from work as it is my birthday and I want to spend this day with my family. For any urgency at work, please call me at +1-[X] as I will not be available at my email address for the said day. Thank you.
Regards
Andrew Lewis
OT Manager
STEL Arts Group
789-C, Floor 9, RC Tower, Peapack Road
New York City, NY, USA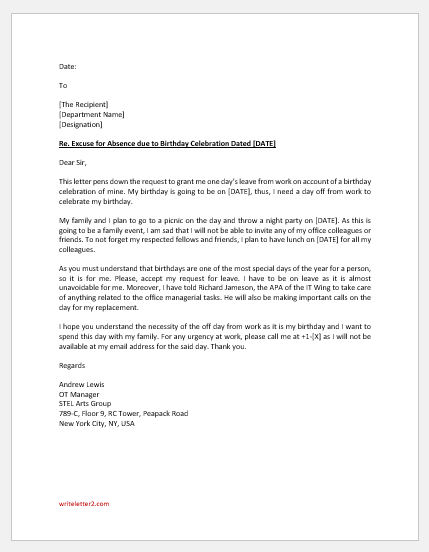 Size: 21 KB Word .doc File 2003 & later
Download
---
#2
Re. Excuse for the Absence on [DATE] due to Late Night Birthday Party
Dear Oliver,
This is Jamaica Elve, writing to excuse the absence from office on [DATE]. I have been working in this office since 2019 and have never been absent without informing the relevant department or my immediate supervisor.
Recently, I missed the office on [DATE] due to an unavoidable and unanticipated situation. It was my birthday on the mentioned date and almost at midnight, around 12:30 AM, my family and friends visited my home without informing me to surprise me. My wife had already arranged a surprise party for me, thus, did not inform me to protocol the surprise. It was a small party, hence, we kept waking and dealing with the guests till early morning i.e., 4:00 AM.
By sleeping so late, I could not manage to wake up at office time. I intended to not miss the office at any cost as I knew that the date had been fixed for Gulf company for the contract negotiations. I also understand that being Project Manager, my presence was crucially important, but I am regretful that I could not attend the delegates of Gulf company.
I know the given excuse is a personal matter and has nothing to do with my professional responsibilities. Being absent from office without informing is extremely incompetent behavior, I believe. Therefore, I apologize for the negligence. I shall try to not let this happen again.
Please accept my apologies. I am looking forward to a response from you in the follow-up of this matter. Thanks.
Regards
Jamaica Elve
Project Manager
PICCA,
DNO-Heights, Lesling Square Road
San Diego, CA, USA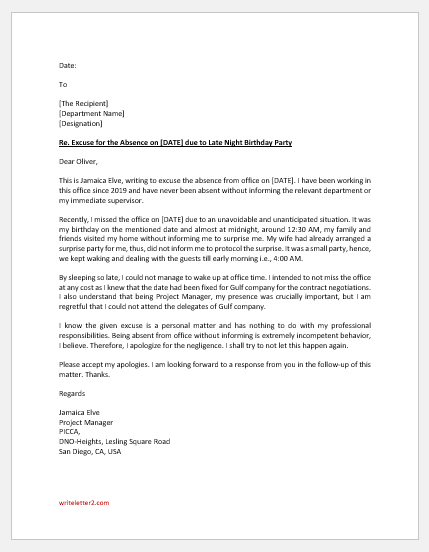 Size: 22 KB Word .doc File 2003 & later
Download